Cheesy Mashed Potatoes Recipe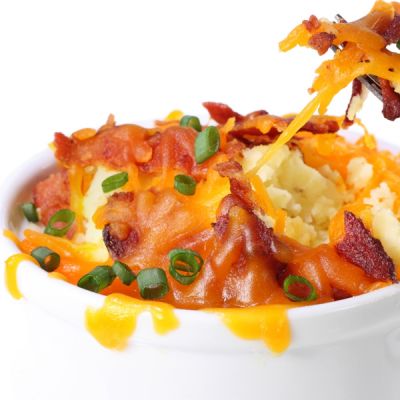 A creamy and delicious cheesy mashed potatoes recipe. Serve with gravy or sour cream.
Ingredients
4 large potatoes, peeled and diced
1 3/4 teaspoons salt
1/2 cup heavy cream
4 teaspoons butter
8 slices bacon, cooked crisp and crumbled
1 cup cheddar cheese, grated
1/4 cup chives, chopped
Directions
Place potatoes and 1 teaspoon salt in a large pot, cover with water, bring to a boil over high heat.
Reduce heat to low, simmer for 20 minutes or until potatoes are fork tender.
Drain, return potatoes to pot.
Add cream, butter, and salt.
Mash potatoes until creamy and no lumps remain.
Transfer potatoes to an oven safe serving bowl.
Sprinkle bacon, cheese over top. Broil for 2-5 minutes just until cheese is melted.
Top with chives to serve.