Cheesy Potato Shepherd's Pie Recipe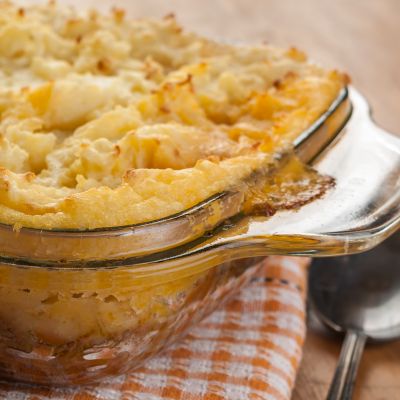 An easy comfort food dish loaded with cheesy goodness.
Ingredients
4 large russet potatoes
1 1/2 cups shredded cheddar cheese, divided
1 Tablespoon margarine or butter
salt and pepper to taste
1 Tablespoon vegetable or olive oil
1/2 cup chopped onion
1/2 cup chopped celery
1 lb. ground beef
1 (10.5 ounce) can condensed vegetable soup
1/2 teaspoon dried thyme
Serves 4-6
Directions
Preheat oven to 350°F.
Lightly grease a 2 quart baking dish.
Peel, rinse and put cut the potatoes into cubes.Put just enough water to cover the potatoes in the pot, bring to a boil and cook until potatoes are tender. Drain and mash the potatoes. Add margarine and one cup of the cheddar cheese to the mashed potatoes and stir in. Do a taste test and add salt and pepper to taste.
Heat the oil in a large skillet over medium-high heat. Add the onions and celery and cook for a few minutes until tender.
Add the ground beef, and cook until the juices run clear and no pink shows.
Break the ground beef to a crumble texture as it cooks. Scoop off any fat.
Stir the can of soup and thyme into the mixture.
Pour the mixture into the prepared baking dish.
Spoon the mashed potato mixture on top.
Place into the preheated oven and bake for 20 minutes.
Sprinkle the remaining 1/2 cup shredded cheese on top and bake 5 minutes more, or until cheese has melted.