Cherry Bakewell Tarts Recipe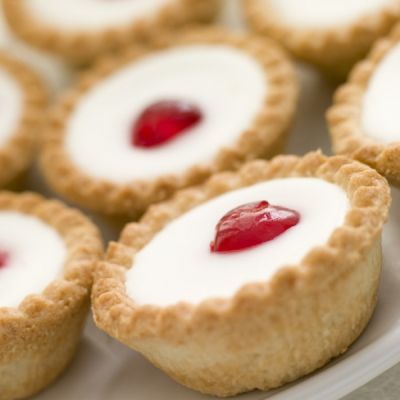 A very yummy recipe for cherry bakewell tarts. This is a family favorite recipe.
Ingredients
Pastry
1 1/2 cups all purpose flour
2 Tablespoons confectioners sugar
3/4 cup butter, cut into cubes and chilled
1 egg yolk
Filling
1/4 cup butter
1/4 cup granulated sugar
1/4 cup ground almonds
1 egg
1 Tablespoon all purpose flour
6 teaspoons raspberry jam
1 cup confectioners sugar
2-3 Tablespoons water
6 glace cherries, halved
Directions
To make the pastry. Place the flour and confectioners sugar in the bowl of a food processor. Add the butter and pulse until the mixture resembles crumbs. Mix the egg yolk with 2-3 tbsp cold water, tip in to the food processor and pulse again until the dough just comes together.
pour the dough onto a lightly floured surface and knead just until smooth
Preheat the oven to 350 degrees F
On a lightly floured surface, roll out the dough to a large circle. Stamp out 12 rounds using tart cutter. Carefully press into the holes of a muffin tin. Chill for 30 minutes.
Bake the pastry for 10-15 minutes until the sides are set, Set aside on a wire rack to cool.
To make the filling. Cream the butter and sugar until soft; beat in the ground almonds, egg and flour until smooth, set aside.
Spread about ½ tsp raspberry jam in the base of each pastry case, then spoon in the almond filling so it comes about half way up the sides.
Bake the tarts for 20 minutes until lightly golden. Cool in the tin for 5 minutes, then transfer the tarts to a wire rack to cool completely.
Mix the icing sugar with about 2 tbsp water until you have a thick white paste. Spoon on top of the tart cases and top each with half a cherry.