Cherry Chocolate Cupcakes Recipe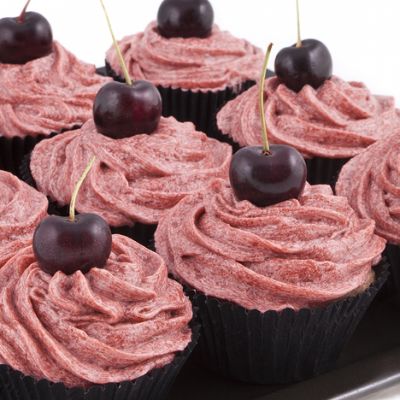 This cherry chocolate cupcake recipe makes really tasty chocolate cupcakes that have little chocolate chips hidden inside. The cherry buttercream frosting really makes this an outstanding and beautiful cupcake to serve.
Ingredients
Cupcakes
1 1/2 cups all-purpose flour
1/2 cup unsweetened cocoa powder
2/3 cup granulated sugar
1 teaspoon baking soda
1 teaspoon baking powder
1/2 teaspoon salt
2/3 cup whole milk
2/3 cup instant malted milk powder
1/2 teaspoon espresso powder
2/3 cup grape seed oil
2 large eggs
2/3 cup sour cream
1 teaspoon vanilla extract
3/4 cup miniature chocolate chips
Cherry Buttercream Frosting
4 1/2 cups confectioners' sugar
1 1/2 cups butter, at room temperature
1 Tablespoon pure vanilla extract
3-4 Tablespoons whipping cream
2/3 cup tart cherry preserves
cherries for garnish
Makes 24
Directions
Cupcakes
Preheat oven to 350 degrees F.
Line 2 muffin tins with paper liners.
In a large bowl, stir the flour, cocoa powder, sugar, baking soda, baking powder and salt together.
In a mixing bowl, stir the milk, milk powder and espresso powder together. Add the oil and eggs and use and electric mixer to blend.
Add the milk mixture to the flour mixture and using an electric mixer, beat until smooth. Add the sour cream and vanilla and beat until combined. Use a wooden spoon to stir in the chocolate chips.
Fill the prepared cupcake liners filling only to half full.
Place both pans on the same level rack and tack for 15-20 minutes or until a toothpick inserted in the middle comes out clean.
Remove from the oven and let the cupcakes sit in the pans for 2 minutes and then transfer the cupcakes to wire racks to cool for 10 minutes more before frosting.
Frosting
Put the cherry preserves into a small blender and pulse to remove any chunks and make them more of a sauce. Set aside.
In a mixing bowl, using an electric mixer, cream the sugar and butter using medium speed. Beat until well blended. Add the vanilla and the whipping cream and beat for 2 minutes until light and fluffy. Add the cherries and beat in until well incorporated. If the frosting is too runny add a bit more confectioners' sugar.
Transfer the frosting into a piping bag and frost each cupcake. Garnish with a fresh cherry.