Cherry Glazed Walnut Brownies Recipe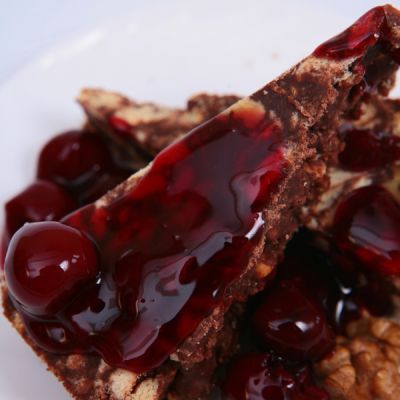 A Yummy Chocolate walnut brownie recipe with sweet cherry glaze.
Ingredients
Brownies
1 cup pecans or walnuts , chopped
1 1/4 cups (5 ounces) cake flour
1/2 teaspoon salt
3/4 teaspoon baking powder
6 ounces unsweetened chocolate , chopped fine
12 tablespoons unsalted butter , cut into six 1-inch pieces
2 1/4 cups sugar
4 large eggs
1 tablespoon vanilla extract
Glaze
1 pint jar soaked Cherries
1 Tbsp cornstarch
Directions
Preheat oven to 350°. lightly grease a 9-inch baking dish,
Whisk to combine flour, salt, and baking powder in medium bowl. Set aside.
Melt chocolate and butter in large heatproof bowl set over saucepan of almost-simmering water, stirring occasionally, until smooth. When chocolate mixture is completely smooth, remove bowl from saucepan and gradually whisky in sugar. Add eggs one at a time, whisking after each addition until thoroughly combined. Whisk in vanilla.
Add flour mixture, folding with the rubber spatula until batter is completely smooth and homogeneous.
Transfer batter to prepared pan. Using spatula, spread batter into corners of pan and smooth surface. Sprinkle toasted nuts evenly over batter.
Bake until toothpick comes out clean, 30 to 35 minutes. Cool on wire rack to room temperature.
For the glaze. Separate the cherries from the jar and pour the remaining liquid into a 2 quart saucepan. Add 1 tablespoon cornstarch and whisk until dissolved. Add cherries back to the saucepan and heat on low to medium-low heat for 5-6 minutes or until mixtures bubbles and thickens. Remove from heat and allow to cool, slightly.
Once glaze has cooled, drizzle over top of Brownies and serve.