Cherry Loaf Recipe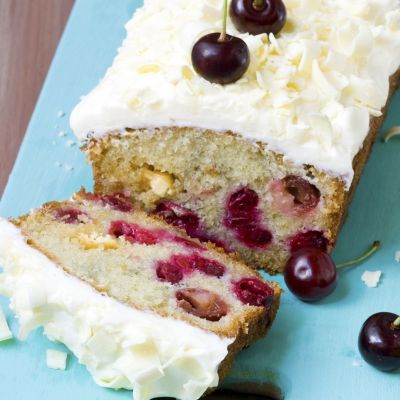 This cherry loaf is very moist and has a gorgeous creamy topping.
Ingredients
1/2 cup butter
1 cup granulated sugar
2 eggs
1/2 cup milk
1 1/2 cups all purpose flour
2 teaspoons baking powder
1 cup cherries, pitted and halved
Frosting
1/2 cup cream cheese, at room temperature
1/4 cup butter, at room temperature
1 cup confectioners' sugar
1 Tablespoon milk
1/8 teaspoon salt
Toppings
1/4 cup white chocolate, shaved
1/4 cup cherries
Directions
Preheat oven to 350 degrees F. Grease a loaf pan.
In a mixing bowl cream butter, sugar and eggs.
Combine flour and baking powder.
Alternate the dry ingredients with the milk into the butter mixture until combined.
Fold in the cherries.
Pour into greased loaf pan.
Bake for 45-55 minutes until brown on top.
To make the frosting, beat the cream cheese and butter together on medium speed until combined thoroughly.
Add confectioners' sugar and beat until thick and combined.
Add milk and beat on medium speed for 2 more minutes until fluffy.
Spread the frosting on the cooled loaf and garnish with chocolate shavings and cherries.