Chewy Chocolate Chip Bars Recipe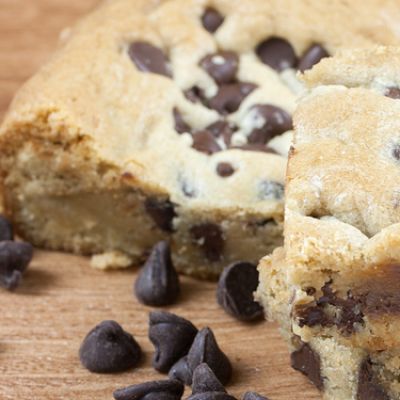 Don't be surprised if the chocolate chip cookie lover doesn't ask for a "BIG" piece!
Ingredients
2 & 1/8 cups all purpose flour
1/2 teaspoon salt
1/2 teaspoon baking soda
3/4 cup butter (1 1/2 sticks), melted and cooled slightly
1 cup light brown sugar
1/2 cup granulated sugar
2 eggs
2 teaspoons vanilla extract
2 cups chocolate chips
Directions
Preheat the oven to 325F.
Place the oven rack to the lower middle position.
Line a 9x13 baking pan with aluminum foil and leave the pieces long enough to overlap the edges for easy removal later. Lightly grease the foil with butter.
In a mixing bowl, stir together the flour, salt and baking soda.
Melt the butter in a small saucepan. Shut off and remove from the heat.
Transfer the melted butter to a mixing bowl. Add the brown and granulated sugars and beat in with an electric mixer. Add the eggs and beat in until well combined. Add the vanilla and beat in.
Add the dry ingredients to the wet in increments, folding them in with a rubber spatula. Don't over mix.
Fold in the chocolate chips.
Pour into the prepared pan and place to bake for 25-30 minutes or until the top is golden brown and slightly firm to the touch with the edges just starting to pull away from the pan.
Remove and place on a wire rack to cool to room temperature.
Remove the bars by lifting the overhanging aluminum foil and transferring onto a cutting board.
Cut into 2-inch squares (or larger) and serve.