Chicken And Egg Salad Recipe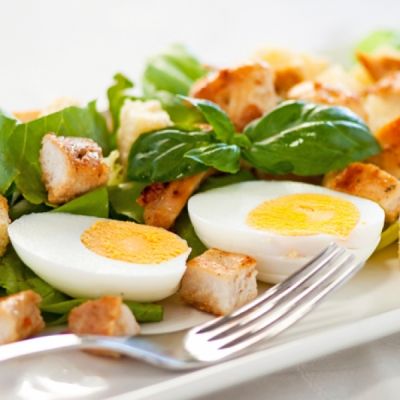 A Great recipe for chicken and egg salad. This is a light and fresh meal.
Ingredients
4 cups young spinach
4 large eggs
3 chicken breasts
2 teaspoons oil
1/2 teaspoon dried oregano
fresh basil sprigs
Caesar Inspired Dressing
1 1/2 cups olive oil
3 Tablespoons Parmesan
3 Tablespoons honey
3 teaspoons
mustard powder
1/2 cup white vinegar
2 Tablespoons lemon juice
2 garlic cloves, minced
2 teaspoons salt
2 teaspoons pepper
* Makes 12 servings (so keep in a glass jar on the counter for another salad).
Directions
Place the eggs into a small pot and cover with cold water by at least 1-inch.
Turn the heat on to high. Once the water comes to a boil, turn heat off cover and leave the eggs in the water for 15 minutes.
Remove from hot water and chill until cold.
Once cold, peel off the shell. Slice each egg in half.
Heat a frying pan to medium-high heat, coat chicken breasts with oil and sprinkle with oregano.
Fry in hot pan for 10 minutes per side or until chicken is cooked through. Cut chicken into bite sized pieces.
Place spinach in a serving bowl and top with chicken, fresh basil and a drizzle of dressing. arrange halved eggs around.