Chicken And Macaroni Gratin Recipe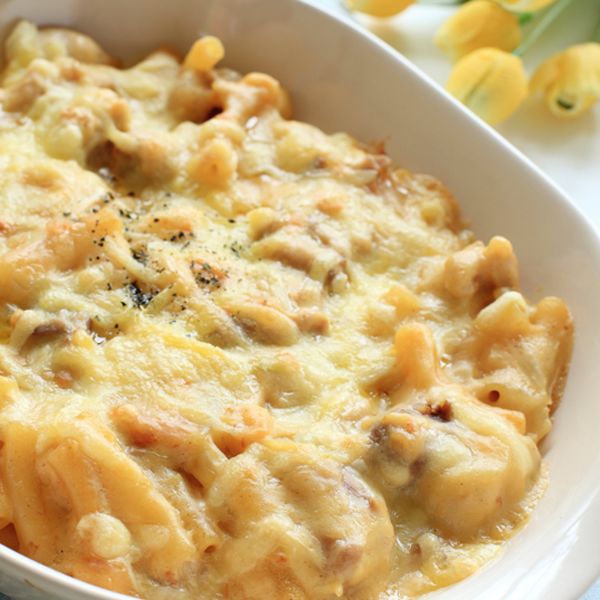 This creamy chicken and macaroni gratin is packed with cheesy goodness the whole family will love.
Ingredients
1 1/2 cups macaroni pasta
1/2 teaspoon salt
3 teaspoons oil
1 small onion, peeled and very finely chopped
2 cloves garlic, peeled and crushed
1 pound chicken breast or thigh fillets, cut into bite-sized pieces
1/4 cup butter
1/4 cup all purpose flour
1 1/2 cups chicken stock
1 1/3 cups milk
1/2 cup cheddar cheese, grated
Freshly ground black pepper, to taste
1/2 cup mozzarella cheese, grated
1/2 cup swiss cheese, grated
Directions
Put a large pot of water on to boil and cook macaroni according to package directions, until just tender. Drain pasta and set aside.
In a large frying pan over medium-high heat, heat 2 teaspoon of oil.
Add the onion and garlic and cook, stirring occasionally, until tender.
Add chicken pieces and fry until chicken is lightly browned; about six minutes. Stirring occasionally.
Remove pan from heat and set aside.
Adjust the oven rack to the centre and preheat oven to 400ºF.
In a medium sauce pan over medium heat, melt the butter. Once the butter has melted, add the flour and stir constantly, allowing the mixture to bubble for about 40 seconds.
While continuing to stir, slowly add the chicken stock and milk.
Increase heat to medium-high and cook, stirring constantly, until the sauce thickens.
Once thickened, remove the sauce from heat and add the 1/2 cup of cheddar cheese.
Add salt and pepper to taste.
Mix the macaroni noodles to the chicken sauce and stir to combine.
Pour the pasta mixture into a large ovenproof dish.
Sprinkle with combined mozzarella and swiss cheese.
Bake in the oven for 15 - 20 minutes, or until golden brown and hot in the centre.
Allow gratin to stand for five minutes before serving.