Chicken And Mushrooms Recipe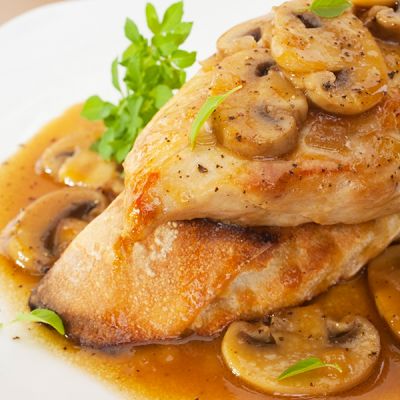 This chicken and mushrooms recipe will melt in your mouth.
Ingredients
4 boneless, skinless chicken breasts
1/4 teaspoon salt
1/4 teaspoon pepper
1 cup all purpose flour
1/2 teaspoon paprika
2 tablespoons butter
1 tablespoon of olive oil
1 tablespoon butter
4 cups mushrooms, washed and sliced
1 cup chicken broth
1/2 teaspoon salt
1/8 teaspoon pepper
1/2 cup sour cream
1 tablespoon of fresh lemon juice
1/4 teaspoon of lemon zest
2 tablespoons all purpose butter
2 tablespoons fresh parsley, chopped
(Serves 4)
Directions
Preheat oven to 375F.
Line a casserole dish with parchment paper OR grease with a bit of oil.
Season chicken with salt and pepper.
Place flour and paprika in a resealable plastic bag; add chicken, a few pieces at a time. Seal and shake to coat.
Over medium heat, in a large pan add butter and olive oil.
Shake extra flour off chicken and add chicken to pan. Brown on each side for 2 minutes.
Transfer chicken to prepared baking dish.
In the same frying pan, add the rest of the butter and saute mushrooms for about 3 minutes.
In a medium bowl combine broth, sour cream, lemon juice, zest, 2 Tablespoons flour, salt and pepper.
Whisk to combine. Add the pan with the mushrooms and cook until the sauce begins to thicken.
Pour mushroom mixture over chicken and bake for 20-30 minutes or until chicken is no longer pink.
Serve with a little parsley and fresh cracked pepper on top.