Chicken And Pasta Bake Recipe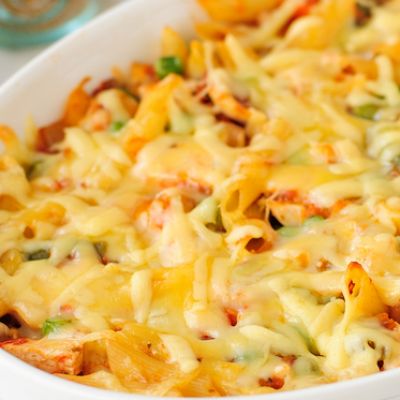 This chicken and pasta bake recipe is make with some nice simple ingredients. It is a dish the kids should like and is a full meal that would be wonderful served with a fresh green salad.
Ingredients
2 cups macaroni
2 Tablespoons olive oil
2-3 boneless, skinless chicken breasts, chopped into small bite size pieces
1 onion, chopped
1 small zucchini, finely chopped
1 cup frozen peas
1 (14 ounce) can tomato soup
1 (14 ounce) can diced tomatoes
2-3 Tablespoons sour cream
2 cups cheddar cheese, shredded
salt and pepper to taste
Serves 4-6
Directions
To cook pasta, fill a large pot 2/3 of the way with hot tap water. Add 1 teaspoon salt to the water.
Bring to a boil over high heat.
Add the pasta and stir with a wooden spoon to be sure noodles donít stick to the bottom of the pot.
Turn the heat down, enough to maintain a boil and stir every so often to prevent noodles sticking.
Do not cover the pot. After 8-10 minutes, take a piece of pasta out of the water, allow it to cool and do a test for doneness. Bite into the pasta.
If it is too hard to bite or you see a white center, it needs to cook a little longer. When it cooks all the way through it is ready and cooked el dente.
Turn off the heat, put the pasta into a strainer.
Shake out excess water and put the pot back onto a cool part of the stove.
Heat oven to 350F.
Grease a 9x13 inch baking dish with butter.
Heat the olive oil in a large skillet set over medium-high heat. Add chicken, in batches if necessary. Cook, stirring occasional, until lightly browned and cooked through.
Remove chicken from skillet and set aside. With the skillet still set over medium-high heat, add the onion and cook for 3-5 minutes, until transparent.
Add the zucchini, peas, tomato soup and diced tomatoes.
Allow the sauce to simmer for 10 minutes, until vegetables are cooked. Pour the sauce over the pasta.
Add the cooked chicken and sour cream and mix everything together until well coated and combined.
Season with salt and pepper to taste.
Pour pasta in the the prepared baking dish and spread out evenly.
Evenly sprinkle the cheese over the pasta.
Cover the dish with aluminium foil.
Transfer the dish to the preheated oven and bake for 20 to 25 minutes, until heated through.
Remove the foil and turn the oven to broil.
Broil pasta bake for 3 minutes until cheese is bubbly and lightly browned.