Chicken And Potato Casserole Recipe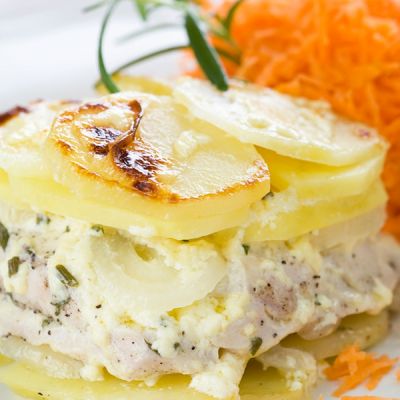 This chicken and potato casserole is like a fancy scalloped potato recipe.
Ingredients
2 chicken breasts, cut into cubes
1 Tablespoon olive oil
1/2 cup butter
1/2 cup all purpose flour
2 teaspoons salt
1/2 teaspoon pepper
3 cups milk
1 large onion, slices
1/2 cup white cheese, shredded
5 cups potatoes, peeled, par-boiled and sliced
Directions
Preheat over to 350 degree F.
Peel and par-boil the potatoes. Drain the water, let the potatoes cool, then slice them into rounds.
Meanwhile, while the potatoes are cooking we will cook the chicken.
Heat the oil in a frying pan and cook the chicken pieces until they are not pink. Set aside.
To make the creamy sauce, melt butter in large sauce pan over low heat and whisk in flour, salt, and pepper.
Cook, stirring constantly, for about 1 minute.
Remove from heat gradually whisk in milk.
Return to heat and cook until thickened and bubbly.
Fold in chicken, onion slices,and cheese.
Gently stir the mixture together.
Place a layer of potatoes slices into the bottom of a buttered 9x13 inch baking dish.
Pour the creamy mixture on next.
Make a top layer with the remaining potato slices.
Cover with aluminum foil.
Bake 30 minutes.
Uncover and bake for 10 more minutes to lightly brown the top.