Chicken And Sweet Corn Potato Jackets Recipe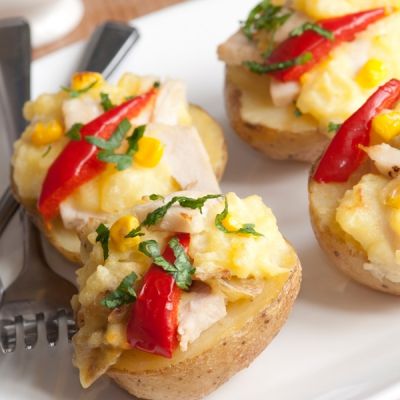 A Delicious recipe for chicken and sweet corn potato jackets. Great served with a salad.
Ingredients
4 young potatoes
2 chicken breasts
1 cup corn
1/2 cup cheddar cheese, grated.
8 thin slices or red pepper
2 Teaspoons parsley, chopped fine
salt and pepper to taste
Directions
Preheat oven to 400 degrees F.
Place chicken breasts and potatoes on a oiled baking sheet and bake 25 minutes or until cooked through.
Cut potatoes in half scoop out a small dip in the center of each potato half.
Dice cooked chicken and mix with corn, scooped out potato and cheese.
Place potato halves bake on baking sheet in over for 5 minutes just until cheese is melted and warmed through.