Chicken And Vegetable Spring Rolls Recipe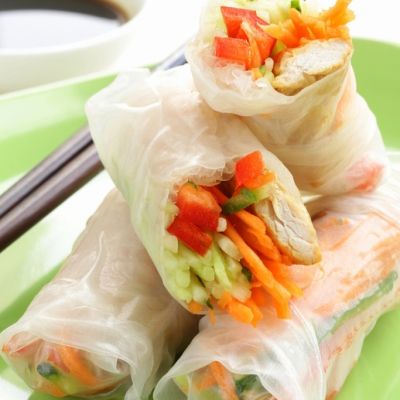 This chicken and vegetable spring rolls recipe has a a tasty chicken breast and fresh crispy colorful vegetables. This recipe makes 8 rolls.
Ingredients
Makes 8 rolls
2 chicken breasts
Salt and pepper
1 Tablespoon olive oil
1 cucumber, julienned
1 carrot, julienned
1 daikon radish, julienned
1 red pepper, seeds removed and cut thin
1 jalapeno, seeds removed and thinly cut lengthwise
1 bunch mint leaves
1 bunch cilantro
1 bunch basil leaves
8 sheets of round of rice paper (20g each)
Directions
Place the chicken breasts between two sheets of plastic wrap and pound to 1/2-inch thick.
Slice chicken into narrow strips and sprinkle with salt and paper.
Set a medium skillet over medium-high heat and heat oil.
Add chicken strips and cook for 2-3 minutes on each side, until cooked through.
When chicken is cooked, set aside to cool.
To assemble rolls: have all the vegetable ingredients washed, cut and ready to use.
Fill a shallow bowl with lukewarm water.
Lay a clean damp kitchen towel out on your work surface. Working one at time, dip 1 sheet of rice paper into lukewarm water to wet and then lay out flat on the damp towel.
Along the middle of the rice paper, lay out a few cucumbers, carrots, daikon and red pepper slices.
Add 1 jalapeno strip, if using. Top with two strips of chicken and a few mint, cilantro and basil leaves.
Carefully pull the bottom of the rice paper lengthwise up and over the filling. Fold the sides inward and press to seal. Tightly roll upwards along the other side of the rice paper until you have a little contained bundle. Press tight to seal. Work carefully to try not to tear the paper.
Set the spring roll aside on a serving dish, seam side down, and cover with a damp towel.
Repeat this process with the remaining wrappers and filling.
Set the rolls aside in the refrigerator, covered with a damp towel, while making the dipping sauce.
down sides, if necessary.