Chicken Cashew Nut Stirfry Recipe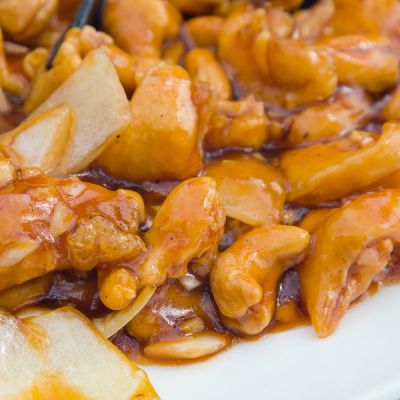 A delicious recipes commonly served in Thailand, that is filled with flavors.
Ingredients
200gr Chicken breast meat, cut into bite size pieces
1 Medium size onion, cut into thin slices.
3-5 Large dry chilies, deseeded and cut into 1.5 cm (1″) length
1/2 cup unsalted cashews nuts
2 red peppers, cut into thin julienne
1 banana pepper, cut into thin slices
2 Large cloves garlic, crushed and roughly chopped
3-4 small shallot onions, cut into 4cm (1.5″) lengh
1 tbs all propose or tempura flour
cooking oil - have the bottle handy
Seasoning sauce:
1 1/2 tbs Fish sauce or Light soy sauce (For gluten free choose GF sauces)
1 tbs Black soy sauce
1 tbs Oyster sauce
1/4 tsp Salt
1/4 tsp Granulated sugar
1/4 cup Stock or water
Pinch of ground white pepper
Directions
Prepare seasoning sauce by mixing all the ingredient.
Deep fry on medium-low heat the cashews nuts until light golden, drain oil and set aside
Lightly fry dry chilies until shiny and get beautiful deep red color. Set aside.
Toss chicken pieces in flour, and fry until light golden. Set aside with the nuts and dry chilies.
Cut the long red peppers into julienne, the onion into thin slices and the green banana pepper into thin slices. Set aside
On medium heat stir fry the garlic lightly until fragrant.
Add onions, and stir fry until slightly transparent.
Add fried cashews nuts, fried dry chilies and fried chicken, toss everything together and stir-fry for 30 seconds.
Add seasoning sauce, stir fry until all the ingredients get a nice color.
Add red and green fresh chilies julienne and spring onion. Fast toss everything together, stir frying for another last 30 seconds.
Serve hot with white rice.