Chicken Coconut Milk Curry Recipe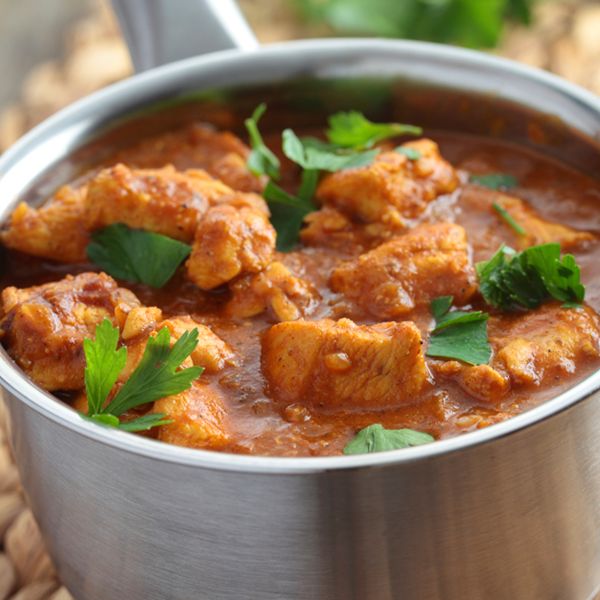 Quick, easy, yummy and healthy, this chicken coconut milk curry is a delicious weekday meal.
Ingredients
2 Tablespoon oil, divided
2 chicken breasts, cut into pieces
1/2 onion, chopped
1 to 2 tablespoons red curry paste
1/2 cup chicken stock
2 teaspoons fish sauce
2 Tablespoons brown sugar
1/4 cup fresh basil, chopped
1 (15 ounce) can coconut milk
1/4 cup parsley, chopped
Directions
Heat 1 tablespoon oil in a medium saucepan over medium-high heat.
Add chicken and 1/2 teaspoon Red curry paste and fry for 6 minutes, or until the chicken is cooked through.
Remove the chicken from the saucepan and set aside.
With the saucepan still over medium-high heat, add the remaining 1 Tablespoon of oil.
Add onion and 1/2 to 1 Tablespoon of the remaining Red Curry paste, depending on how spicy you like your curry.
Cook for about 5 minutes, until onion is tender and curry paste is fragrant.
Add chicken stock, fish sauce, and brown sugar and bring to a boil.
Reduce heat and add basil. Allow to simmer for 10 minutes.
Add coconut milk, bring back to a simmer.
Add the cooked chicken and again bring to a simmer.
Spoon curry into a serving dish and sprinkle with chopped parsley.
Serve with rice.