Chicken Cutlet Steak And Milk Gravy Recipe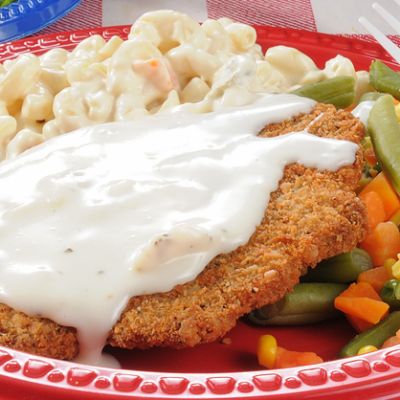 This chicken cutlet steak is coated in milk gravy. Delicious with just about anything!
Ingredients
Chicken Steaks
4 chicken steak cutlets,
salt, pepper, and garlic salt
all purpose flour, for dredging
3 eggs
1 can flat beer
1 Tablespoon meat tenderizer
1/2 cup flour, for coating
1/2 cup fine bread crumbs, for coating
Oil for cooking
Milk Gravy
1/4 cup bacon grease
1/4 cup all purpose flour
1 1/2 cups milk warm
1/4 teaspoon salt
1/4 teaspoons pepper
2 Tablespoons melted butter
Directions
Chicken Steaks
Season the chicken steaks on both sides with salt, pepper, and garlic salt.
Place onto a hard surface and use a meat pounder to pound until it is nice and thin. Flip over a couple times while you are pounding.
In a shallow bowl, mix the eggs, beer, and 1 teaspoon of salt, along with a sprinkling of meat tenderizer.
Stir in just enough flour in to make a thin, watery batter. Stir the mixture until it is smooth.
Dip the chicken steaks into the batter.
Stir the flour and breadcrumbs together and place them onto a plate. Press down on the meat with your fingertips into the flour mixture until the moisture is absorbed.
Heat the oil in a skillet to 350 degrees F.
Place the chicken steak into the hot fat and cook until golden brown.
Place the cooked steaks onto a plate lined with paper towels to absorb the fat.
Milk Gravy
Using a large skillet, heat the bacon grease. Stir in the flour and whisk until the mixture is smooth. Cook for about one minute and let it get bubbly.
Slowly add the milk to the mixture, stirring with a whisk as you are adding to combine and get the lumps out. Once all the milk is added, turn the heat down and cook for about 5 minutes until thickened. Stir in the butter and do a taste test. Season with salt and pepper to suit your taste.
Time it so the gravy and the chicken steaks are ready at the same time.