Chicken Lasagna Recipe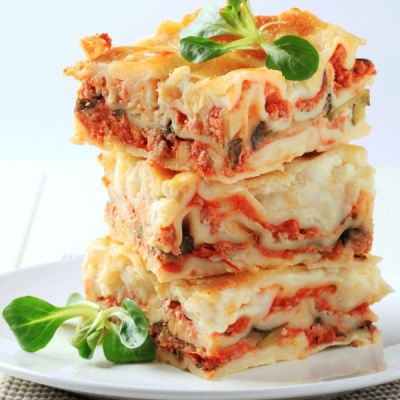 A Warm and delicious recipe for chicken lasagna. Serve with garlic bread and a salad.
Ingredients
1 lb.ground chicken
2 1/2 cups Mozzarella Shredded Cheese, divided
2 cups light ricotta cheese
1/2 cup Parmesan Grated Cheese, divided
1/4 cup chopped fresh parsley
1 egg, beaten
1 jar(700 mL)pasta sauce
1/2 cups water
12 lasagne noodles
Directions
Heatoven to 350°F.
Cook noodles as to package directions.
Brownmeat in large skillet on medium-high heat. Meanwhile, mix 1-1/4 cups mozzarella, ricotta, 1/4 cup Parmesan, parsley and egg until blended.
Drainmeat; return to skillet. Stir in pasta sauce. Pour water into empty sauce jar; cover and shake well. Add to skillet; stir until blended.
Spread1 cup meat sauce onto bottom of 13x9-inch baking dish; top with layers of 3 lasagne noodles, 1/3 of the ricotta mixture and 1 cup meat sauce. Repeat layers twice. Top with remaining noodles and meat sauce. Sprinkle with remaining mozzarella and Parmesan. Cover with foil.
Bake1 hour or until heated through, uncovering after 45 min. Let stand 15 min. before cutting to serve.