Chicken Paprikash Recipe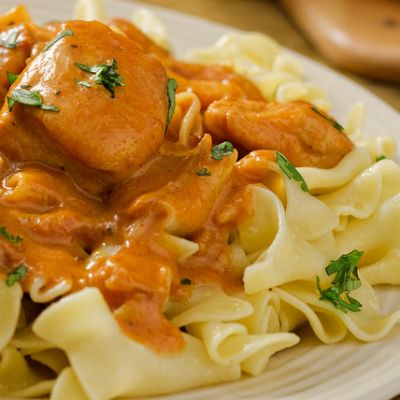 This chicken paprikash recipe is colorful and tasty and very nice served with egg-noodles.
Ingredients
1 pound boneless, skinless chicken breasts, cut into 2-inch pieces
1/4 teaspoon kosher salt
1/4 teaspoon freshly ground pepper
2 Tablespoon olive oil, divided
1 large onion, halved and thinly sliced
2 teaspoons hot or sweet paprika
1/2 cup dry white wine
1 1/2 cups canned crushed tomatoes
1/2 cup reduced-sodium chicken broth
1 Tablespoon lemon juice
1/4 cup reduced-fat sour cream
2 Tablespoon fresh parsley, chopped
(Serves 4)
Directions
Sprinkle chicken pieces with salt and fresh ground pepper.
Place a large skillet over medium-high heat and add oil.
Once oil is heated, add chicken. Cook for 3 to 5 minutes, until browned. Remove from heat and set aside.
Reduce the heat to medium and in the same skillet, heat the remaining tablespoon of olive oil.
Add the onion and sauté until softened and transparent, about 5 minutes.
Add paprika and cook for 30 seconds, until fragrant.
Add the white wine.
Increase the heat to medium-high and cook until most of the liquid has evaporated, about 1 - 2 minutes.
Add tomatoes, broth and lemon juice and bring to a boil.
Reduce the heat to a simmer and add the chicken and juices back to the skillet.
Turning occasionally, cook for 6 to 8 minutes, until the sauce is reduced and the chicken is cooked through.
Once the chicken is cooked through, remove the skillet from heat and stir in the sour cream.
Sprinkle with parsley and serve immediately over a bed of egg noodles.