Chicken Quesadillas Recipe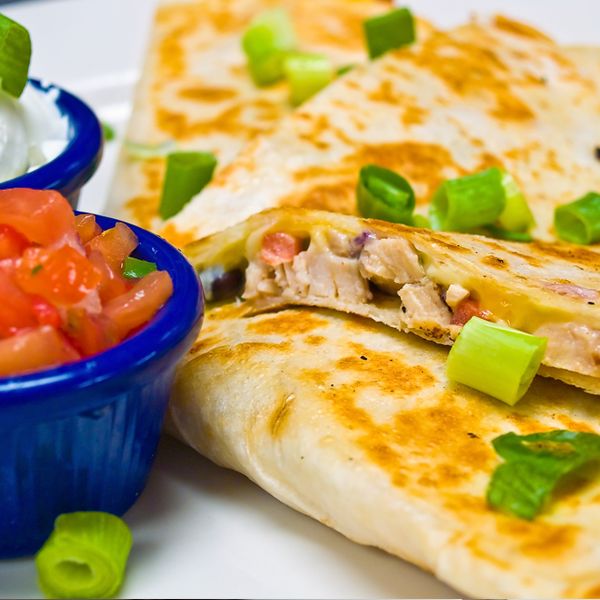 Chicken Quesadillas - The kids will love them.
Ingredients
2 chicken breasts
1 small red pepper - thinly sliced (optional)
8 fresh mushrooms - thinly sliced (optional)
Sea salt & pepper to taste
1/4 cup salsa - Any variety
2 tablespoons chopped fresh cilantro
1/2 cup refried beans
4 flour tortillas (8 inch)
3/4 cup shredded cheese - your choice
Additional salsa, if desired
Sour cream, if desired
Olive Oil - Just enough to rub onto the outsides of the quesadillas to prevent sticking when cooking.
Directions
Prepare the chicken:
1 Cut the chicken breast into thin strips.
2 Put into a skillet with 1-2 tablespoons butter or olive oil
3 Medium to high heat - watch so nothing burns
4 Start with the mushrooms and fry for a few minutes.
5 Add the chicken slices, cook until done
6 Add the sliced red peppers.
7 Cover and cook for a few more minutes.
Assemble the quesadillas:
1 In medium bowl, stir in the cooked chicken mixture, 1/4 cup salsa and cilantro until well mixed.
2 Spread 2 tablespoons beans over half of each tortilla.
3 Top bean side of each tortilla with chicken mixture and cheese.
4 Fold each tortilla in half over filling.
The final step:
1 Heat 12-inch non stick skillet over medium-low heat.
2 Rub quesadilla with olive oil
3 Place your quesadillas in skillet.
4 Cover; cook 3 to 4 minutes, turning once, until filling is heated and tortillas are lightly browned. Repeat with remaining quesadillas.
5 Cut into wedges.
6 Serve with additional salsa and sour cream.
*Hint : If you cut the stuffed quesadillas in half, you can heat them up in a Panini maker.