Chicken Risotto Recipe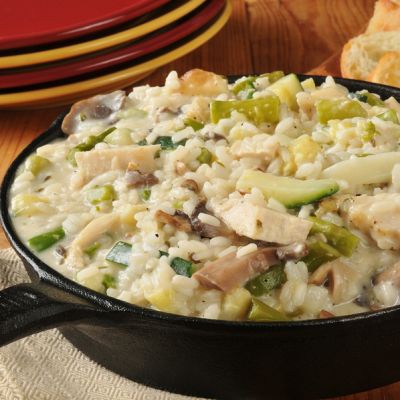 This chicken risotto recipe is made with sauteed onions and an assortment of my favorite vegetables.
Ingredients
1/2 cup vegetable or olive oil, divided
2 small sweet onions, diced
10 mushrooms, sliced
1 small zucchini, cut into pieces
4 asparagus stalks, cut into 1 inch pieces
1 cup of either Madeira wine, vermouth or sherry.
9 -10 cups chicken stock
3 cups arborio rice
2 cups chopped cooked chicken
2 Tablespoons margarine or butter
salt and pepper to taste
Serves 8-10
Directions
In a large cast iron skillet or heavy saucepan, over medium, heat 1/4 cup of oil.
Add onions and cook until softened and golden.
Add mushrooms, zucchini and asparagus pieces and cook until softened.
Deglaze the pan by adding wine or substitute.
Use a spatula to scrape up the brown bits from the bottom of the pan. Over medium-high heat, cook to the liquid reduces by half.
While you wait, in another medium pot, bring the stock to simmer and keep on stove over low heat.
Add 1 cup of stock to vegetable mixture and cook over medium until reduce and thickened.
Set aside.
Using a new heavy saucepan, heat remaining 1/4 cup oil over medium.
Pour in rice, and stir to coat (about 2-3 minutes)
A large spoonful at at a time, add the simmering stock.
Stir after each spoonful and let most of the liquid absorb into rice, but not dry out, before adding each new spoonful.
Reserve 1/4 cup of stock.
Taste rice, and if it is tender to bite, but still a tiny bit firm in the center (20 minutes or so), mix in the the cooked chicken and heat for 1 minute.
Take off the heat, and add margarine, onion mixture, and the rest of the stock, stirring it all in.
Taste, and season with salt and pepper to your liking.