Chicken Saltimbocca Recipe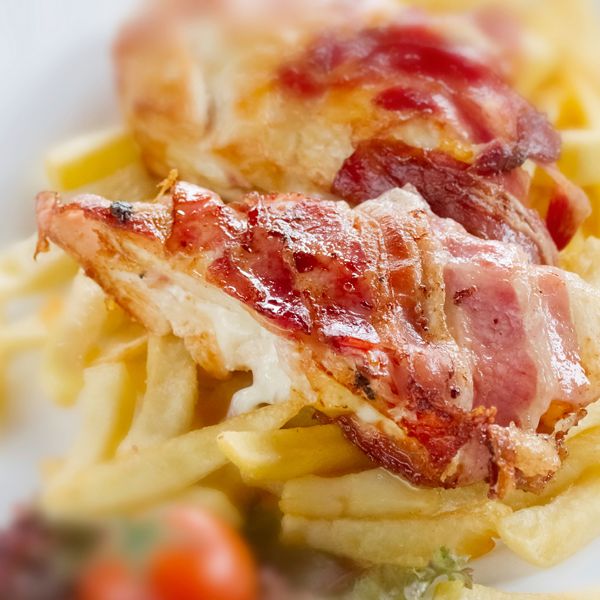 A yummy and very flavorful recipe for chicken saltimbocca served over home made fries.
Ingredients
Chicken
4 Chicken Breasts, skin and bone removed
4 Strips prosciutto
1/2 Teaspoon salt
1/4 teaspoon pepper
1/4 cup all purpose flour
1/3 cup chicken broth
3/4 cup dry white wine
1 Tablespoon butter
2 cloves garlic, halved
3 Tablespoons olive oil
Fries
4 Large potatoes, cut into fries
2 teaspoons olive oil
1/2 teaspoon salt
1/4 teaspooon pepper
Directions
Preheat oven to 400 degrees F.
Toss potatoes in olive oil and spread on a large baking sheet, sprinkle with salt and pepper.
Bake fries for 20 -25 minutes until crispy and golden
Wrap prosciutto on top of each chicken breast, folding under.
In a shallow dish, add flour, salt and pepper. Stir with a fork to mix evenly.
Coat each chicken breast on both sides. Shake of any excess flour.
In a hot skillet, add about 3 tablespoons of olive oil. Add garlic and saute until browned. Remove garlic.
Place each piece of chicken in the skillet, presentation side down first.
When chicken pieces are browned on both sides, remove and set aside.
Add the wine and the chicken broth to the skillet, over a medium high heat. Reduce until concentrated.
Turn the heat off and add the butter. Stir to combine.
Serve chicken over fries and pour sauce over the chicken.