Chicken Tomato Casserole Recipe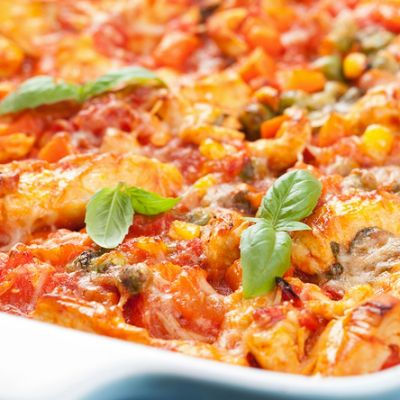 This chicken tomato casserole, also has beans, corn, green beans, seasonings and mozzarella cheese. It is easy to put together and baked in the oven.
Ingredients
3 chicken breasts, skinned and deboned
1 large onion, chopped
1 (15 1/2 ounce) cans kidney beans, drained
1 cup frozen corn
1 cup frozen chopped green beans
1 (720g) jar tomato sauce (more or less)
1 or 2 fresh tomatoes, chopped
fresh basil to taste, chopped
1/2 teaspoon salt
1/2 teaspoon pepper
1 cup mozzarella cheese, grated
(Serves 4-6)
Directions
Preheat the oven to 375 degrees F.
Grease an oven proof baking dish.
Chop the chicken into bite sized pieces.
In a mixing bowl, put the chicken pieces, chopped onion, kidney beans, corn, beans, tomato sauce and chopped tomatoes, chopped basil, salt, pepper and mozzarella cheese. Stir the mixture together to combine.
Cover the dish with aluminum foil.
Transfer the mixture to the prepared dish and cover the dish with aluminum foil.
Cook for 45 minutes.
Garnish with fresh basil.