Chili Baked Potato Recipe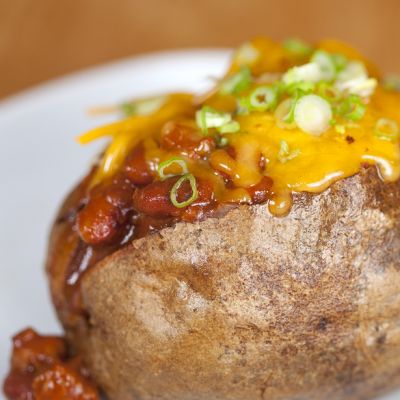 This chili baked potato recipe is a good one to make if you have some leftover chili and you are looking for a tasty way to use it up.
Ingredients
4 large potatoes, cleaned and scrubbed
2 cups chili
1 cup cheddar cheese, grated
4 green onions, diced
Directions
Preheat oven to 400 degrees F.
Wrap potatoes individually in tin foil and place on baking tray.
Bake for 30-40 minutes, or until centre is soft when poked with a fork.
Meanwhile, heat chili in a saucepan on stove.
When done, remove potatoes from foil and slice lengthwise down the centre 3/4 of the way through.
Fill each with 1/2 cup chili and sprinkle with 1/4 cup of cheese.
Sprinkle with green onion and return to baking sheet.
Broil for 5 minutes until cheese melts.
Serve with sour cream and/or hot sauce.