Chinese Pork Dumplings Recipe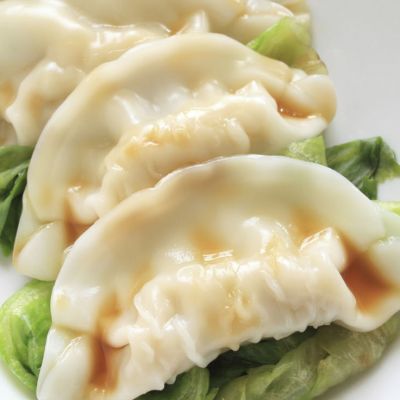 These Chinese pork dumplings are a delicious appetizer idea.
Ingredients
3-6 Tablespoons peanut oil
1 cup chicken broth, divided
24-30 wonton skins
Filling
1 lb ground pork
2 chopped green onions
1 Tablespoon soy sauce
2 teaspoons rice wine
1 teaspoon sesame oil
1 garlic clove, minced
1 egg, beaten
1 Tablespoon cornstarch
1/4 teaspoon salt
1/4 teaspoon pepper
Directions
Mix All filling ingredients in a mixing bowl until well combined.
Take a wonton wrapper and place 1 heaping teaspoon of filling in center.
Moisten edges with water, fold over and press to seal edges.
Add 3 Tablespoons of Peanut Oil to a large skillet, add enough dumplings that they are not touching each other in the pan, and saute until the bottoms are golden brown.
When golden brown, add 1/2 cup chicken broth, cover pan and simmer 8 minutes.
Remove from pan.
Reserve broth in a separate bowl and repeat process until all dumplings are cooked.
Keep warm on a plate covered until ready to serve.