Chocolate And White Mousse Layered Cake Recipe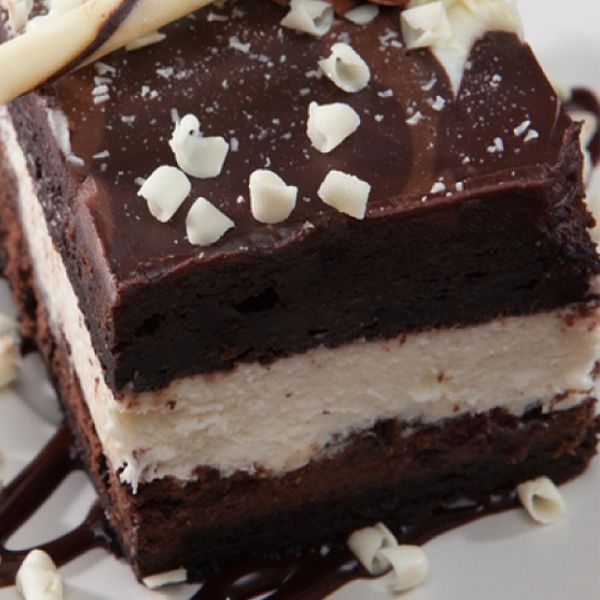 This recipe for Chocolate and White Mousse Layered Cake makes one 9 inch cake dessert.
Ingredients
Chocolate Cake
1 cup sugar
1 cup all purpose flour
1/4 cup + 2 Tablespoons sifted cocoa
1 teaspoon baking powder
1/2 teaspoon baking soda
1/2 teaspoon salt
1 eggs
1/2 cup sour cream
1/2 cup strong black coffee
1/4 cup canola oil
1 teaspoon vanilla
White Chocolate Cheesecake Mousse Filling
4 ounces cream cheese (softened to room temperature and cubed)
6 ounces white chocolate (chopped)
1 cup heavy cream
Chocolate Icing
1/4 cup soft butter
1/4 cup sifted cocoa
1 1/2 cup icing/confectioners sugar
1-2 teaspoons of milk - more or less to achieve desired spreading consistancy
Chocolate Ganache
1/4 cup whipping cream
6 ounces chocolate chips
White Chocolate Shavings*Optional
Directions
Cake
Preheat oven to 350 degrees F.
Prepare one square 9 inch square pan by lining with parchment paper.
Combine all dry ingredients into a mixing bowl, then add all the wet ingredients and beat with a hand or stand up mixer for 2 minutes.
Pour batter into pan and bake for 30 to 35 minutes or until a toothpick comes out clean.
Cool completely and split the cake into 2 layers.
White Cheesecake Mousse Filling
In a small saucepan heat the heavy cream to a simmer.
Add the chopped white chocolate and stir until smooth.
Add the cubed cream cheese and stir until smooth.
Refrigerate about 1/2 hour or until spreading consistency.
Chocolate Icing
Make a spreadable icing by combining all the ingredients in a small bowl. Add the milk one teaspoon at a time, using enough milk to make a spreadable icing.
Chocolate Ganache
Bring the whipping cream just to a boil and turn off.
Add the chocolate chips and stir until smooth.
Set aside until it is slightly thickened but still pourable.
Assembly
Put the first layer of chocolate cake on a serving plate.
Top with white cheesecake mousse filling.
Put on the second layer of chocolate cake.
Spread the chocolate icing. Make as smooth as possible.
Sprinkle on grated white chocolate if using.
Refrigerate. Keep refrigerated until ready to serve, drizzle ganache on each plate.