Chocolate Biscuits With Chocolate Ganache Recipe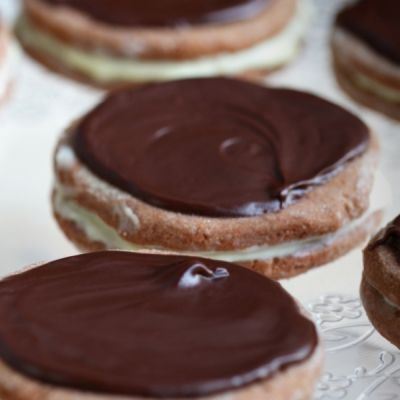 A Yummy recipe for chocolate biscuits with chocolate ganache and a creamy filling.
Ingredients
Chocolate biscuits
2 eggs
1 cup brown sugar
1/2 cup oil
1 tsp vanilla
2 cups flour
1 tbsp baking powder
1/2 cup cocoa, sifted
Chocolate Ganache
8 ounces semisweet chocolate, coarsely chopped
1 cup heavy cream
1 tablespoon unsalted butter, at room temperature
Filling
1/4 cup unsalted butter, room temperature
1/4 cup shortening
2 cups confectioners sugar
2 teaspoon pure vanilla extract
Directions
Preheat oven to350 degrees F Cover a baking tray with baking paper and set aside.
For the cookies. In a large bowl, beat the eggs, sugar, oil and vanilla until well combined. Stir in flour, baking powder and cocoa.
Roll spoonfulls into balls and press with a fork to slightly flatten. Bake for 12-15 minutes. Leave to cool on the tray for 5 minutes then transfer to a cooling rack.
To make the filling.Place the butter and shortening in the bowl of an electric mixer and beat on low speed. Gradually beat in the sugar. Then add the vanilla and beat to combine. Turn the mixer on medium - medium high and beat for 2 to 3 minutes, or until the filling is light and airy.
To make the ganache. Place chocolate in a medium heatproof bowl; set aside. Place cream in a small saucepan over medium heat and bring to a simmer. Pour over chocolate and let stand until chocolate has softened, about 5 minutes. Add butter and stir until smooth.