Chocolate Bits Cake Recipe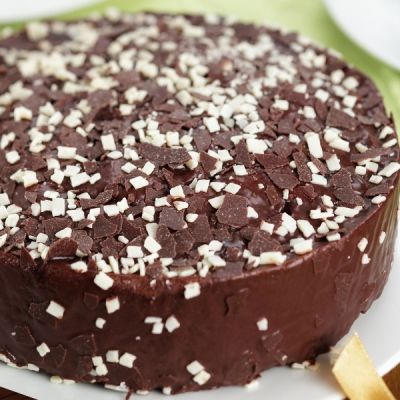 A Sweet and delicious recipe for chocolate bits cake.
Ingredients
Cake
1/4 cup butter, room temperature
1 cup granulated sugar
1 egg
1 teaspoons vanilla extract
1/4 cup water
2 ounces unsweetened chocolate, chopped
1 teaspoons espresso powder
1 1/2 cups cake flour
1/4 cup cocoa powder
1 teaspoon baking soda
1/8 teaspoon salt
1/2 cup sour cream
Frosting
1/2 cups unsalted butter, room temperature
1/2 cup semisweet chocolate, chopped, melted
1 teaspoons vanilla extract
1/4 teaspoon salt
1 1/2 cups confectioners sugar
Garnish
1/8 cup white chocolate shavings
1/4 cup dark chocolate shavings
Directions
Preheat oven to 350 F. Butter and flour a 8 inch cake pan.
Cream butter and sugars together until fluffy. Beat in eggs and vanilla.
In a small pan stir water and espresso powder over low heat until melted. Allow to cool slightly before beating into butter mixture.
mix together together flour, cocoa powder, baking soda, and salt and stir into batter alternately with sour cream. fold in chopped chocolate. Pour into pan.
Bake for 25-35 minutes, until a tester inserted in the center of the cake comes out clean.
Allow to cool 10 minutes , then turn cake out onto a wire rack to cool completely.
For the frosting. Beat butter on high speed, scraping sides frequently, until light and fluffy. Reduce speed and beat in egg yolk. Add melted chocolate and mix in.Add vanilla, salt and icing sugar and beat until smooth.
Place cooled cake on a serving plate and coat the top and sides with frosting. Sprinkle white and cark chocolate shavings over top.