Chocolate Brownie Cupcakes Recipe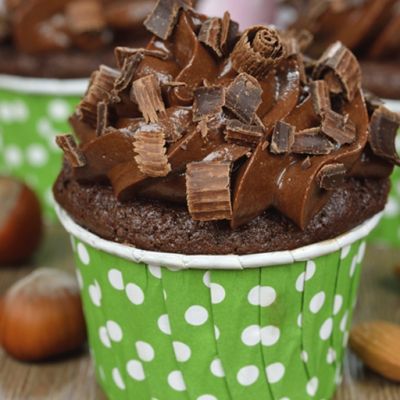 Dress up these chocolate brownie cupcakes using a colorful paper cake liner and garnishing with chocolate curls.
Ingredients
Chocolate Brownie Cupcakes
3/4 cup all purpose flour
1/2 cup unsweetened cocoa powder
1 teaspoon baking powder
1/4 teaspoon salt
2/3 cup granulated sugar
2/3 cup packed brown sugar
3/4 cup butter, melted and cooled slightly
1/2 teaspoon vanilla
1/2 teaspoon almond extract
3 eggs
2/3 cup semi-sweet chocolate chips
Nutella Buttercream Frosting
3/4 cup butter, at room temperature
3 cups confectioners' sugar
1/3 cup milk
1 teaspoon pure vanilla extract
1/2 cup very soft nutella
1/2 cup chocolate chips, melted
Garnish *otional
1/2 cup chocolate curls
Directions
Preheat oven to 325 degrees F.
Line a muffin pan with paper liners.
In a small bowl, mix together flour, cocoa powder, baking powder and salt.
In a large bowl, whisk together granulated and brown sugars and butter until smooth.
Whisk in vanilla and almond extract.
Add eggs, one at a time, beating well after each addition.
Add flour mixture, beating until combined. Stir in chocolate chips.
Scoop batter into prepared muffin pan.
Bake in preheated oven for 28 minutes or until a tester inserted into center comes out with a few crumbs attached and a little melted chocolate.
Let cool in pan on rack for 10 minutes.
Remove cupcakes from pan and let cool completely on rack.
Frosting
Melt the chocolate chips in the top of a double boiler or using your favorite method.
Mix all frosting ingredients with a mixer.
If too thin, add more confectioners' sugar, if too thick add more milk one teaspoonful at a time.
Put into a piping bag and decorate the cupcakes.
Garnish with chocolate curls(optional).