Chocolate Butterfly Cupcakes Recipe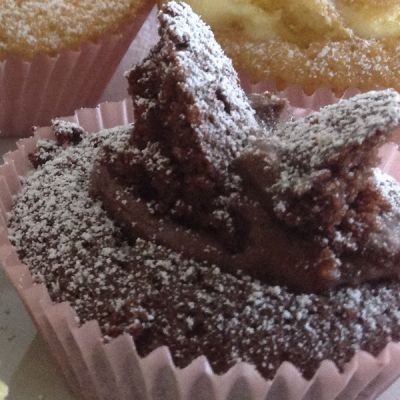 This recipe for chocolate butterfly cupcakes are a perfect little treat for a little girls party.
Ingredients
Cupcakes
1 ounce chocolate, melted
1/2 cup margarine or butter, at room temperature
1/2 cup granulated sugar
1 1/4 cups all purpose flour
2 large eggs
2 Tablespoons cocoa powder
confectionersí sugar, sifted, for dusting
Filling
1/4 cup margarine or butter, at room temperature
1 cup confectionersí sugar
1 ounce chocolate, melted
Directions
Preheat the oven to 350F.
Line a 12 cupcake pan with paper liners.
Cupcakes:
Melt the 2 ounces of chocolate over low heat in
a small pot on the stove top. This is the chocolate needed for both the cupcakes and the filling and will need to be divided in half.
Mix the butter,sugar, flour, eggs and cocoa powder in a large bowl and, using an electric mixer, beat together until just smooth.
Beat in half of the melted chocolate.
Spoon the mixture into the lined cupcake pan.
Fill them three quarters full.
Place into the preheated oven and bake for
15 minutes, or until a toothpick inserted in the center comes out clean. Remove and place onto a cooling rack. After 5 minutes, transfer the cupcakes onto the wire rack and leave to cool.
Filling:
Using an electric mixer, mix the margarine in a bowl until fluffy. Sift in the icing sugar and beat together until smooth. Add the melted chocolate and beat together until well mixed.
Assembly:
When the cupcakes are cold, use a very sharp knife to cut a circle from the top of each cake and then cut each circle in half.
Spread or pipe a little of the chocolate filling into the center of each cupcake and press 2 semi-circular halves into it at an angle to resemble butterfly wings.
Dust with sifted icing sugar before serving.