Chocolate Cake Squares Recipe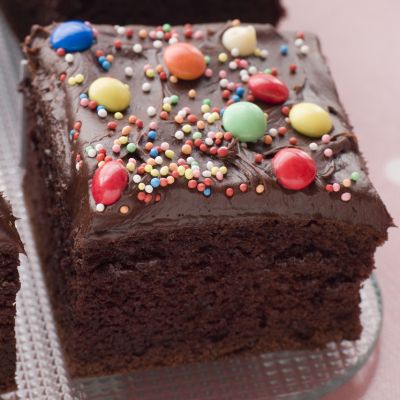 A super delicious chocolate brownie cake with a chocolate frosting.
Ingredients
CAKE
1 cup butter, room temperature
1/3 cup cocoa
1 cup water
2 cups sugar
2 cups flour
1/2 cup buttermilk
2 eggs
1 teaspoon vanilla
1 teaspoon baking soda
1/2 teaspoon salt
ICING
1/2 cup butter
1/4 cup cocoa
6 Tablespoons buttermilk
2 1/2 cups confectioners' sugar
1 teaspoon vanilla
3/4 cup chopped nuts (optional)
Directions
Preheat oven to 375F; grease and flour a 9x13 pan.
In a large saucepan, combine butter, cocoa and water. Heat in microwave to boiling, stirring occasionally.
Meanwhile, in mixing bowl, combine sugar and flour.
Pour hot mixture over sugar and flour and mix to combine.
Add remaining cake ingredients and beat until well blended.
Pour into pan and bake for 35-45 minutes or until done (toothpick inserted comes out clean and when shaken, cake seems set).
Pour icing on cake immediately after taking it out of oven.
Frosting
In a saucepan combine butter, cocoa and buttermilk in bowl and heat in microwave until boiling, stirring to occasionally.
Let cool and blend with an electric mixer to fluff it up and add confectioners' sugar and vanilla. Beat until smooth.