Chocolate Cake With Caramel Filling Recipe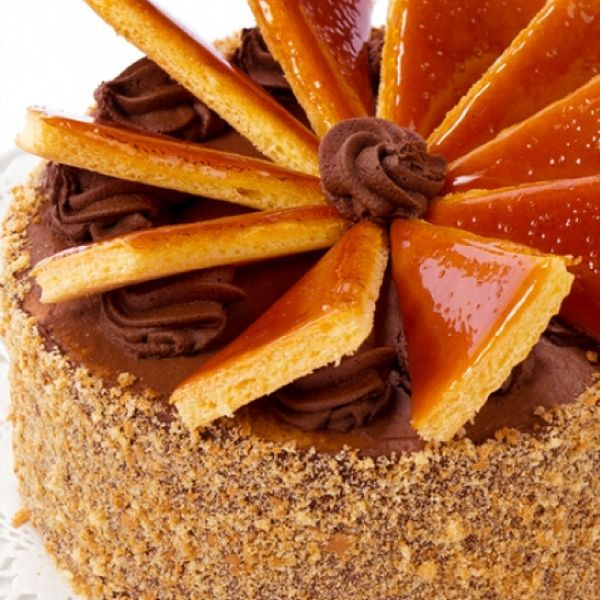 A Deliciously sweet recipe for Chocolate cake with caramel filling.
Ingredients
Cake
2 cups sugar
1 3/4 cups all purpose flour
3/4 cup unsweetened cocoa powder
1 1/2 teaspoons baking powder
1 1/2 teaspoons baking soda
1 teaspoon salt
1 cup whole milk
2 large eggs
1/2 cup unsalted butter, melted
1 cup hot water
1 tablespoon instant espresso powder or instant coffee
1 1/4 cups almonds, toasted, coarsely chopped
Filling
1 cup sugar
1/4 cup water
2 tablespoons light corn syrup
1/2 cup heavy whipping cream
1/4 cup unsalted butter, diced
1/4 sour cream
1/2 teaspoon fresh lemon juice
Frosting
1 1/2 pounds bittersweet chocolate, chopped
3 cups heavy whipping cream
Decoration
12 caramel coated wafer cookies.
Directions
Preheat oven to 350°F. Grease two 9-inch cake pans
Sift sugar, flour, cocoa powder, baking powder, baking soda, and salt into large bowl. Add milk, eggs, and melted butter. Using electric mixer, beat at low speed until blended. Increase speed and beat 2 minutes. Stir 1 cup hot water and espresso powder in small bowl to dissolve. Add to batter; beat until blended. Divide batter between pans.
Bake cakes 30-35 minutes. Cool cakes in pans on racks 10 minutes. Cut around cakes; turn out onto racks.
Filling: Stir sugar, 1/4 cup water, and corn syrup in deep medium saucepan over low heat until sugar dissolves. Increase heat to medium; cover pan and cook 4 minutes. Uncover; increase heat to high. Boil without stirring until syrup is deep amber, occasionally brushing down pan sides with wet pastry brush, about 6 minutes. Remove from heat. Add cream. Whisk in butter, then lemon juice. Cool completely.
Frosting: Place chocolate in large bowl. Bring cream to simmer in medium saucepan. Pour cream over chocolate; let soften 1 minute. Whisk until chocolate is smooth. let cool.
Place bottom cake layer on a serving tray, top with filling and then second cake layer. spread frosting over top and sides.
Cut Caramel cookies and arrange around top. clumble 1 or 2 then press crumbs into sides of cake.