Chocolate Cake With Cream Filling And Nut Frosting Recipe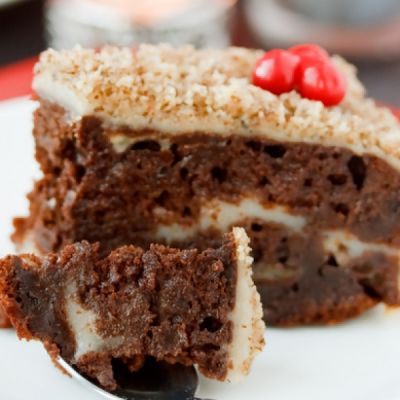 A Creamy and Delicious recipe for gooey chocolate cake with cream cheese filling and a nut topped frosting.
Ingredients
Filling
1 8 oz package cream cheese, at room temperature
1/3 cup granulated sugar
2 Tablespoons all purpose flour
2 teaspoons lemon zest
1/2 teaspoons salt
1/2 teaspoon vanilla extract
Cake
1 cup granulated sugar
4 eggs
1 teaspoon vanilla extract
1 cup all purpose flour
1 cup chocolate chips
1/2 cup butter
Frosting
1/3 cup butter, at room temperature
3 1/2 cup confectioners sugar
1 1/2 teaspoons vanilla
1/4 cup milk
Topping
1 1/2 cups ground walnuts
Directions
Preheat oven to 350 degrees F. grease a 9 inch round springform baking pan.
To make the cake. In a mixing bowl, cream butter, eggs, vanilla and sugar. Mix in flour then chocolate chips. Pour half of batter into cake pan
To make the filling. In a medium bowl, mix filling ingredients until smooth. Pour into the pan over the batter layer. then cover with remaining cake batter.
Bake for 35-40 minutes. remove from oven and let cool before running knife around inside edge and removing from springform.
To make the frosting. In medium bowl,beat butter with 1 cup confectioners sugar and vanilla extract; beat well. Add remaining confectioners sugar alternately with milk, beating until smooth.
Spread frosting over cooled cake and distribute ground nuts evenly over top.