Chocolate Cake With Cream Frosting Recipe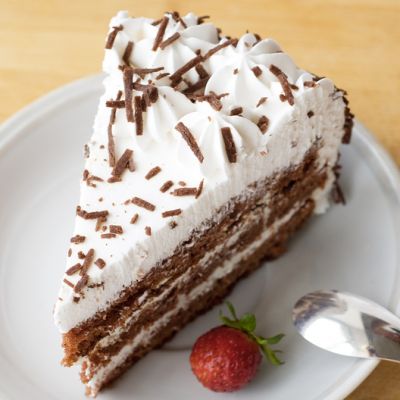 This chocolate cake recipe makes one 10 inch springform cake, that you slice into thin layers and fill with a creamy frosting. Very delicious!
Ingredients
Cake
1 cup butter
1 1/2 cups granulated sugar
2 large eggs
1/2 cup cocoa powder
1 teaspoon baking soda
1 teaspoon baking powder
1 teaspoon ground cinnamon
2 cups all-purpose flour
1 Tablespoon instant coffee
1 Tablespoon hot water
1 1/2 cups buttermilk
Frosting
2 cups sour cream
2 cup confectioners' sugar
2 cups whipping cream
Serves 6 - 8
Directions
Cake
Preheat oven to 350F.
Grease a 10 inch springform pan with butter.
Beat together butter and sugar until light and fluffy. Add eggs one at a time, and beat in after each addition.
In a separate bowl whisk together cocoa powder, baking soda, baking powder, ground cinnamon and flour.
In a measuring cup mix together instant coffee and hot water until coffee has dissolved, then add buttermilk.
Alternating between flour mixture and buttermilk, mix into butter mixture until well incorporated. Once incorporated beat for another couple of minutes.
Pour batter into prepared spring form pan and bake for 50 - 60 minutes, or until an inserted toothpick comes out clean. Set to cool, once cool enough to touch run a knife along edge of cake and release from spring form pan and let cool completely on a wire rack.
Frosting
Whisk together sour cream and sugar, set aside.
Whip together cream, until stiff peaks form. Fold whipped cream into sour cream mixture until well combined.
Assembly
Cut cake into 3 thin layers. Spread frosting in between each layer, also spread frosting on top and on sides of cake. Decorate with chocolate shavings and some piped frosting. Refrigerate.