Chocolate Cake With Ganache Recipe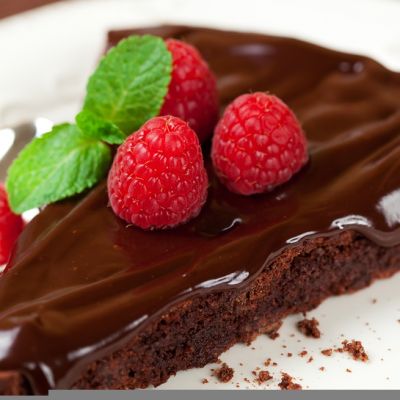 This chocolate cake with ganache recipe is a delicious flourless chocolate cake recipe that you will swoon over.
Ingredients
Cake
1 cup butter
1 1/2 semisweet chocolate chips
5 large eggs, at room temperature,separated
3/4 cup sugar
2 teaspoons vanilla extract
1/2 teaspoon salt
Chocolate Ganache Icing
1 1/2 cup semisweet chocolate chips
1/2 cup heavy cream
Serves 6 - 8
Directions
Preheat oven to 350F
Grease and flour a 9 inch round pan
In a small pot melt together butter and chocolate chips, set aside to cool.
Whip together egg yolks, sugar and vanilla. Whip till thick.
In another bowl whip together egg white and salt to soft peaks.
Take cooled chocolate and fold gently into egg yolk mixture. Add chocolate slowly. After its incorporated, fold in egg whites, once it's mixed in, pour batter into prepared pan.
Bake for 35 - 40 minutes, or until an inserted toothpick comes out clean. Set to cool, once cool enough to touch turn cake out and let cool completely on a wire rack.
While cake is cooling, prepare ganache. In a double boiler or a pot filled with water and a bowl. Melt together chocolate and heavy cream on low heat. Once melted pour on cooled cake.
Garnish with fresh raspberries and fresh mint.