Chocolate Caramel Cake Recipe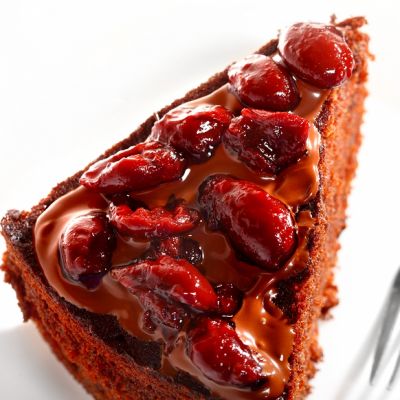 This chocolate caramel cake is easy to make and you can serve with or without the tasty plum topping.
Ingredients
Fruit Topping
6 ripe plums
2 Tablespoons granulated sugar
1 Tablespoons water
1/2 teaspoon vanilla extract
Cake
3 eggs
1 cup granulated sugar
3/4 cup grape seed oil
1/4 cup milk
3/4 cup all-purpose flour
1/2 cup cocoa
1/2 teaspoon baking powder
1/2 teaspoon salt
1/2 teaspoon vanilla extract
Caramel Glaze
1 1/2 cups granulated sugar
1 3/4 teaspoons lemon juice
2 cups heavy cream
4 Tablespoons butter
Serves 6 - 8
Directions
Fruit Topping
Cut and quarter plums, slice into bite size pieces. Place pieces into a sauce pan with water. Heat on low heat until plums have softened. Add sugar and vanilla. Stir to get a coating on plums. Set to cool.
Cake
Preheat oven to 350 F.
Grease and flour a 8 inch round cake pan with butter.
Beat together eggs, sugar, oil and milk until smooth.
In a separate bowl whisk together flour, cocoa, baking powder and salt. Add to egg mixture and mix until well incorporated. Stir in vanilla.
In a mixing bowl, beat eggs, sugar, oil and milk.
Combine the flour, cocoa, baking powder and salt; gradually add to egg mixture and mix well.
Bake for 30 - 35 minutes, or until an inserted toothpick comes out clean. Set to cool, once cool enough to touch turn cake out and let cool completely on a wire rack.
Caramel Glaze
In a medium size pot bring to boil sugar and lemon juice. Once sugar starts to turn an amber colour remove from heat and add heavy cream whisking until well incorporated. Whisk in butter and set to cool.
Assembly
Spread caramel glaze over top of cake and top with fruit topping. Serve and enjoy.