Chocolate Cherry Cake Recipe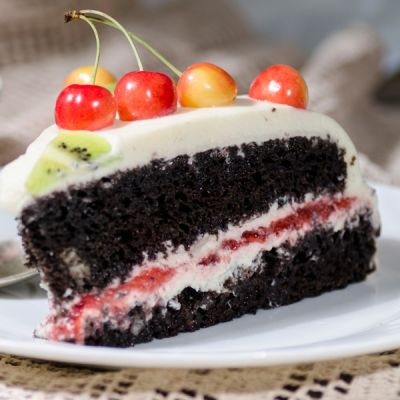 This chocolate cake has a homemade cherry sauce filling. It is moist and great as is or serve with a scoop of ice cream.
Ingredients
Chocolate Cake
1 cup sour cream
3/4 cup cocoa powder
2/3 cup boiling water
1 1/2 cups all purpose flour
1 1/4 teaspoons baking powder
1/2 teaspoon baking soda
1/4 teaspoon salt
1/2 cup butter,at room temperature
1 cup granulated sugar
1 1/2 teaspoon vanilla extract
3 large eggs
Cherry Filling
2 cups fresh pitted cherries
1/2 cup granulated sugar
1/8 cup cornstarch
(Makes about 2 cups)
Butter Cream Frosting
1 cup butter, at room temperature
1 teaspoon vanilla
4 cups confectionersí sugar
1/4 cup milk (more or less)
Directions
Chocolate Cake
Preheat oven to 350 degrees F.
Butter and flour two 9" round pan.
In a mixing bowl, combine the sour cream, cocoa and boiled water, blend well and set aside.
In another bowl stir together the flour, baking soda, baking powder and salt and set aside.
In a large bowl beat butter and sugar on medium high speed for 2 minutes until light and fluffy.
Lower speed and add vanilla, then add the eggs one at a time, blend well.
Add flour mixture and the milk mixture, alternating into the butter mixture, starting and ending with flour and mix well.
Pour batter evenly into both pans and bake for 30-35 minutes or until a toothpick inserted in the center of the cake comes out clean.
Cool on racks for 10 minutes before removing pans, then turn the cakes out onto the cooking racks.
Cool completely before frosting.
Cherry Filling
Wash the cherries, and pit them. Slice the cherries in half.
Place into a saucepan over medium heat, and cover.
Cook until the cherries until they release their juice and come to a simmer for about 10 to 15 minutes.
Stir often.
In a a small bowl, whisk together the sugar with cornstarch combined, then stir the mixture into the hot cherries and juice.
Be sure to stir to thoroughly combine.
Turn down to low and simmer for about 2 minutes or until the filling has thickened. Shut off and transfer the cherry sauce into a bowl to cool down.
It must be cool before you use with the cake.
Butter Cream Frosting
Divide the butter into 4 pieces and put them into a mixing bowl.
Using an electric mixer, beat the butter until smooth
Add the vanilla and beat in.
Add the confectioners' sugar and continue beating until the mixture is fully combined and creamy.
Add the milk one tablespoon at a time. Use only what is need to get the desired consistency.
You can add adjust the consistency of this butter icing by adding more or less milk and icing sugar. The frosting is now ready to use.
Assembly
Place one layer of cake on a cake serving plate.
Spread some frosting, then spoon cherry pie filling into the center. You can reserve some of the filling and use it when you serve the cake.
Ice the underside of the top layer of cake and place it onto the bottom layer.
Frost the top and sides of the cake.
Garnish as desired.