Chocolate Chip Chocolate Cupcakes Recipe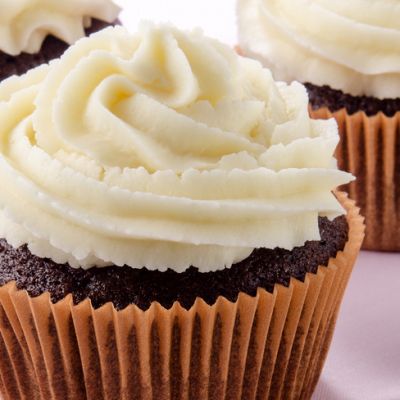 This chocolate chip chocolate cupcake recipe makes a dozen moist flavorful cupcakes. Topped with vanilla butter cream icing this would be a great dessert choice to take along to a potluck.
Ingredients
Cupcakes
1 1/2 cups all purpose flour
1/2 cup cocoa powder
1 teaspoon baking powder
1 teaspoon baking soda
1/2 teaspoon salt
1 egg
1 cup milk
3/4 cup packed brown sugar
1/3 cup butter, melted
2 Tablespoons corn syrup
1 Tablespoon lemon juice
2 teaspoons vanilla
1 cup chocolate chips
Vanilla Buttercream Frosting
1/2 cup (1 stick) butter, at room temperature
2-3 cups confectioners' sugar, SIFTED
1/4 teaspoon salt
1 teaspoon pure vanilla extract
1-2 tablespoons milk or heavy cream
(Makes 1 1/4 cups frosting)
Makes 12 cupcakes
Directions
Cupcakes
Preheat oven to 375 degrees F.
Line a muffing tin with cupcake liners.
Whisk together flour, cocoa powder, baking powder, baking soda and salt in a bowl. Set aside.
In a separate bowl whisk together eggs, milk, sugar, butter, corn syrup, lemon juice and vanilla. Add this to dry ingredients and mix till well incorporated. Fold in chocolate chips.
Fill prepared cupcake liners 3/4 and bake for 15 - 20 minutes, or until an inserted toothpick comes out clean. Set to cool, once cool enough to touch turn cupcakes out of pan and let cool completely on a wire rack.
Vanilla Buttercream Frosting
In a mixing bowl, use an electric mixer to beat butter for a few minutes on medium speed.
Add 3 cups of confectioners' sugar and beat on low speed until the sugar is incorporated into the butter.
Increase mixer speed to medium and add the pure vanilla extract, salt, and 2 tablespoons of milk/cream and beat for 3 minutes.
If your frosting needs a more stiff consistency, add the remaining confectioners' sugar.
If your frosting needs to be thinned out, add remaining milk 1 tablespoons at a time. Put into the piping bag.
Buttercream icings are so easy to work with because you can add more or less of the confectioners' sugar and milk and get to that perfect consistency.
Assembly
Pipe design on top of each cooled cupcake, serve.