Chocolate Cinnamon Chili Almond Nut Cups Recipe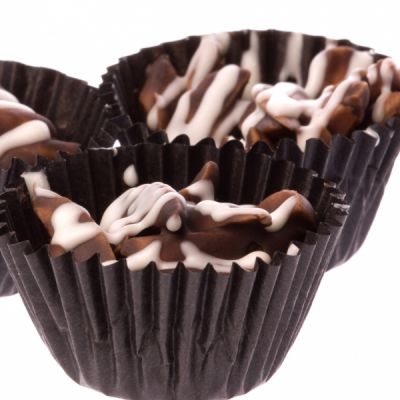 If you are looking for ideas of goodies to makeHere is a great little recipe for Chocolate Cinnamon Chili Almond Nut Cups
Ingredients
1/2 cup chopped unsalted almond pieces
2 tbsp granulated sugar
1/4 tsp cinnamon
1/8 tsp chili powder
1/2 cup dark chocolate chips
1/8 tsp shortening
Drizzle
1/4 cup white chocolate chips
1/16 tsp shortening
Directions
Recipe only makes about 1/2 cup. Give it a try and if you like it you can always make more!
Prepare a baking sheet by lining it with parchment paper.
Prepare a mini muffin pan by lining with paper liners.
In a medium pan, combine the sugar, cinnamon, and chili powder. Place on the stovetop and over medium-low heat, Stir constantly until the sugar dissolves to form a syrup.
Add in the chopped coated almonds and stir until they are coated. Let cool for 15 minutes.
Meanwhile, melt the chocolate with the butter in a saucepan over medium heat on the stovetop. Stir constantly. Let it cool enough to still be soft, but really hot, then stir in the chopped coated coated almonds.
Spoon the chocolate coated almonds into the mini cups.
Make the white chocolate drizzle by melting white chocolate chips in a saucepan on medium heat. Stir while it is melting. Once melted, let it cool a little then put into a baggie and cut a small tip off the corner. Drizzle each treat. Keep refrigerated.
TIP: Why add shortening to chocolate when melting? This because the addition of shortening creates a smoother and more manageable consistency than melted chocolate alone and helps to make a more evenly coated product.