Chocolate Cupcakes With Chocolate Icing Recipe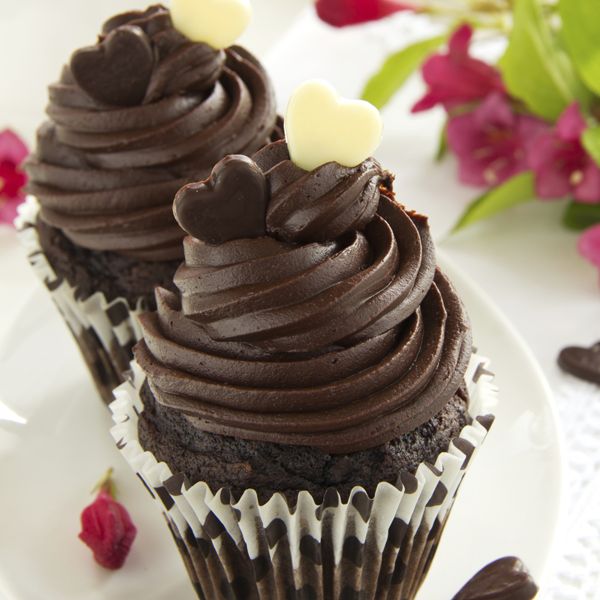 These chocolate cupcakes with chocolate icing make a rich, delicious dessert.
Ingredients
Makes 12 cupcakes
Cupcakes
1/2 cup butter, at room temperature
3/4 cup granulated sugar
1 egg
1 teaspoon pure vanilla extract
1 cup all purpose flour
1/4 cup cocoa powder
1/2 teaspoon baking powder
1/2 teaspoon baking soda
1 cup milk
Chocolate Frosting
2 3/4 cups confectioners' sugar
6 Tablespoons unsweetened cocoa powder
6 Tablespoons butter, at room temperature
5 Tablespoons milk or cream
1 teaspoon pure vanilla extract
Directions
Cupcakes
Preheat oven to 350°F
Line 12 standard muffin cups with paper liners.
Place the butter and sugar into a large mixing bowl and using an electric mixer beat on medium until fluffy.
Beat in the egg and vanilla until combined.
In separate bowl, mix together the flour, cocoa, baking powder and baking soda.
Mix the dry ingredients alternating with the milk into the butter mixture. Mix until combined.
Spoon the batter into the muffin cups, filling about two-thirds full.
Place into the preheated oven and bake for 15-17 minutes or until a toothpick inserted in the center comes out clean.
Remove and place onto a cooling rack.
After 10 minutes remove the muffins from the tin and place onto the cooling rack. Let cupcakes cool completely before icing.
Chocolate Frosting
In a medium size bowl, sift together the confectioners' sugar and cocoa powder, and set aside.
Place the butter into a large bowl and use and electric mixer on medium to beat until smooth.
Gradually beat in the sugar mixture and the milk, alternating until the frosting is light and fluffy.
Blend in the vanilla.
If necessary, adjust consistency with more milk or confectioners' sugar to get to a good consistency.
Put into a piping bag with a star tip and frost and cupcake.