Chocolate Dipped Gingerbread Recipe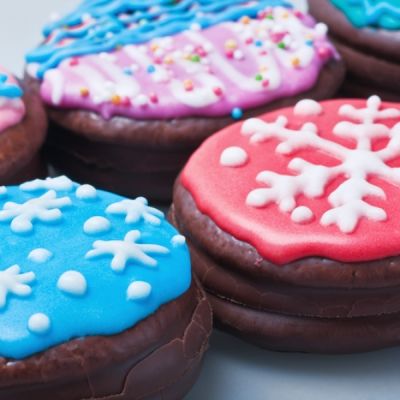 A Sweet and very yummy recipe for gingerbread coated with chocolate. Enjoy dipped into a glass of milk.
Ingredients
1 3/4 cups all purpose flour
2 teaspoon ginger powder
3/4 teaspoon ground cinnamon
1/2 teaspoon baking Powder
1/4 teaspoon baking soda
1/4 teaspoon ground nutmeg
1/4 teaspoon ground cloves
6 tablespoons brown Sugar
1/4 cup butter, at room temperature
3 Tablespoons light molasses
1 large egg
Chocolate Coating
1 cup Semi-Sweet Baking Chips
2 tsp canola oil
Directions
Preheat oven 325 degrees F.
For cookies, whisk all dry ingredients except brown sugar together in a large bowl and set aside.
In a medium saucepan, stir together brown sugar, butter and molasses, melting over a low heat. Once mixture has melted, increase heat to high and stir until it comes to a boil. As soon as mixture boils, remove from heat and let cool for 10 minutes.
Whisk egg and gradually add it to the cooled molasses mixture. Using an electric mixer, beat the molasses mixture together with the flour mixture until just blended.
Turn dough onto a lightly floured surface and roll out. Using a cookie cutter, cut out the gingerbread circles and place on prepared cookie sheets, spacing one inch apart.
Bake one tray at a for 10 minutes, or until tops are puffed and firm. let cool.
For the chocolate coating, stir semi-sweet chocolate baking chips and oil together in the top of a double boiler over simmering water until mixture is melted.
Working one at a time, use a fork to dip each cookie into the melted chocolate, letting the excess drip back into the pot. Place cookies face-up on waxed paper until chocolate hardens, about 30 minutes.
Decorate with icing of your choice.