Chocolate Fudge Coconut Bars Recipe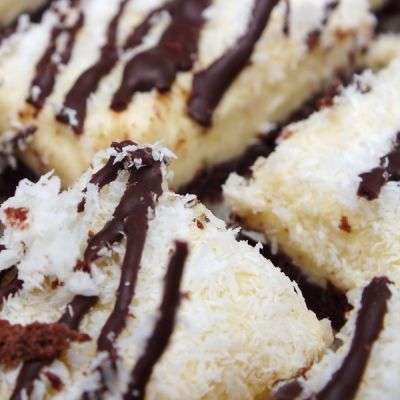 A recipe for Chocolate Fudge Coconut Bars. A delicious no bake, one dish dessert.
Ingredients
Fudge Bottom Layer
1 cup of almonds
8 oz pitted Medjool dates
1 teaspoon vanilla extract
1/8 teaspoon salt
4 Tablespoons cacoa powder
Coconut Layer
1 1/2 cups grated unsweetened coconut
2 Tablespoons honey
1/3 cup almond flour
1/4 coconut oil
pinch of salt
Chocolate Drizzle
1/2 dark chocolate chips
Directions
Fudge Bottom
Put all of the ingredients in a food processor together and process until a dough ball forms
Grease or line the bottom of an 8X8 pan with parchment
Spread the mixture out over the pan and press down with the back of your hand.
Set aside.
Coconut Layer
Put all the coconut ingredients together in a bowl and mix until well combined.
Spread out evenly over the bottom layer and gently pat down.
Chocolate Drizzle
Melt your chocolate chips n the top of a double boiler and drizzle on top of the coconut.
Put the heated chocolate into a small plastic bag and just cut a tip off the corner of the bag for easy drizzling.
Refrigerate a few hours before cutting.