Chocolate Ginger Hazelnut Cake Recipe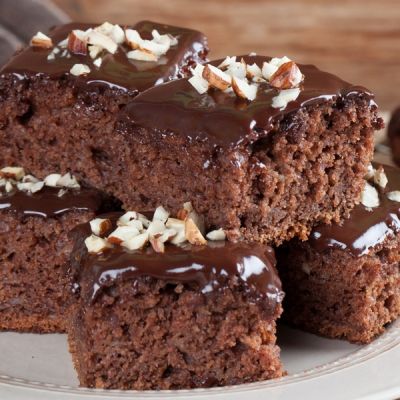 A Deliciously sweet recipe for chocolate ginger hazelnut cake.
Ingredients
Cake
1/4 cup butter
1/3 cup molasses
1/2 cup brown sugar
1 cup all purpose flour
1 1/2 teaspoons ground ginger
1 teaspoon cinnamon
1 1/2 teaspoons baking soda
2/3 cup milk
1 egg, beaten
4 Tablespoons dark chocolate, chopped fine
Icing
1/4 cup butter, at room temperature
1 1/2 cups confectioners sugar
1/3 cup cocoa powder
1 teaspoons vanilla
2 Tablespoons milk
Garnish
1/2 cup hazelnuts, chopped
Directions
Preheat oven to 350 degrees F. Grease a 9x9 inch square baking dish.
Put butter, sugar and molasses into a medium pot and stir over low heat until butter has melted. Turn off heat once butter has melted and stir in chocolate.
Add flour, spices and baking soda to pot, and stir well.
Add milk, egg and stir until smooth.
Pour into pan. Bake 45-50 minutes, until tester inserted in middle comes out clean. Let cool completely.
To make the frosting. In a medium bowl, cream the butter, confectioners sugar, and cocoa. Beat in vanilla, 2 Tbsp milk. If icing is to thick add more milk 1 teaspoon at a time.
Spread icing over cake and garnish with hazelnuts to serve.