Chocolate Glazed Chocolate Bundt Cake Recipe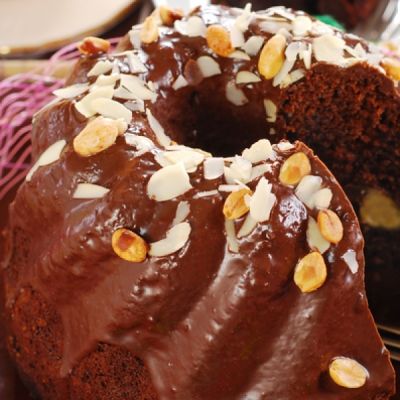 A sweet and moist recipe for chocolate glazed chocolate bundt cake.
Ingredients
Double Chocolate Bundt Cake
1 chocolate cake mix
1 small pkg instant chocolate pudding mix
4 eggs
3/4 cup water
1 cup sour cream
1/2 cup oil
1 cup semi-sweet chocolate chips
Chocolate Glaze
1/2 cup semi-sweet chocolate chips
2 T butter
2 T corn syrup
1-2 tsp hot water
1/4cup sliced almonds
1/4 cup peanuts
Directions
Preheat oven to 350 degrees F. Grease a 10-inch bundt pan and dust with flour.
Beat cake mix, pudding mix, eggs, water, sour cream and oil in large bowl. Stir in chocolate chips. Pour into pan.
Bake 55-60 minutes or until cake springs back when lightly touched. Cool 15 minutes in pan on wire rack. Remove from pan and cool completely on wire rack.
Melt chocolate chips, butter, and corn syrup in saucepan over low heat. Cool about 10 minutes. Stir in hot water, 1 tsp at a time, until consistency of thick syrup.
Set cake on serving plate and glaze. Sprinkle nuts over top.