Chocolate Glazed Macadamia Nut Brownie Recipe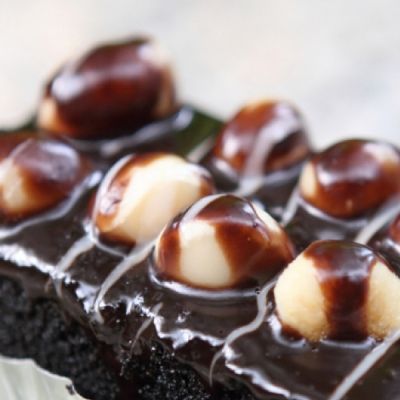 A great recipe for a Dark Chocolate Glazed Macadamia Nut Brownie
Ingredients
Brownie
125 g butter, chopped
90 g semisweet dark chocolate squares, chopped coarsely
90 g milk chocolate pieces, chopped coarsely
1/2 cup raw brown sugar, firmly packed
2 tablespoons honey
2 eggs, beaten lightly
1 cup plain flour, sifted
2/3 cup macadamia nuts, chopped coarsely
extra macadamia nuts to garnish
Ganache
155g (5 oz) dark chocolate or chocolate chips
5 fluid oz. or 155 ml cream
White Chocolate Drizzle
1/2 cup white chocolate chips or good white chocolate pieces
1/2 cup cream
Directions
Brownie
Preheat the oven to 350 degrees F.
Grease and line an 8 inch by 8 inch cake pan with parchment paper.
Combine the butter and chocolate in a pan and stir over a low heat until both have melted then remove the pan from the heat.
Put the melted mixture into a mixing bowl and mix in the sugar and honey. Stir in the lightly beaten eggs.
Add the sifted flour and the nuts and gently fold into the mixture until all the ingredients are well combined.
Pour the mixture into the prepared pan.
Bake in preheated oven for about 30 minutes – or until the brownies are firm.
Cool the brownies in the pan and place the macadamia nuts onto the brownies before spreading on the Ganache.
Drizzle with white melted chocolate drizzle if desired.
Ganache
Place chocolate and cream in a heatproof bowl over a pan of simmering water. Make sure that the base of bowl does not sit in water.Stir gently with a wooden spoon until smooth.
Remove from heat and allow it to cool a little before spreading onto the brownies.
TIP: Chocolate tends to lose its delicate flavor when its temperature is over 120 degrees F and it becomes lumpy or seizing when coming into contact with even a tiniest drop of water, so always be careful not to make it too hot when melting or to get any water at all into it.
White Melted Chocolate Drizzle
In a small saucepan on the stovetop, gently heat the cream and white chocolate until melted.
Let cool a little then put the melted white drizzle into a piper or a small plastic bag and cut a small corner off the bag , then squeeze the white drizzle onto the brownie.