Chocolate Heart Cake Recipe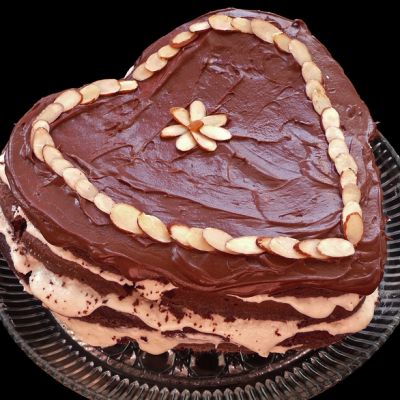 This chocolate heart cake is made in a 7" heart cake pan, sliced into thin layers, filled with chocolate whipped cream and topped with chocolate frosting. YUM!
Ingredients
Cake
3/4 cup all purpose flour
1 teaspoon cornstarch
2 Tablespoon cocoa powder
1 teaspoon baking powder
4 eggs, separated
1/2 cup granulated sugar
Chocolate Whipped Cream Filling
1 cup heavy cream
2 Tablespoons cocoa powder
3 Tablespoons confectioner's sugar
Chocolate Frosting
1/4 cup butter, room temperature
1 cup confectioners' sugar
1/8 cup cocoa powder
1/8 teaspoon salt
1/2 teaspoons vanilla extract
1 Tablespoons milk or heavy cream
Garnish
1/2 cup (more or less slivered almonds)
Serves 6-8
Directions
Cake
Preheat oven to 350F.
Grease and flour a 7 inch heart pan with butter.
Whisk together flour, cornstarch, cocoa powder and baking powder. Set aside
Beat egg yolks with half the sugar until pale and creamy. Set aside
Whip egg whites with remaining sugar until stiff peaks form.
Alternating between flour mixture and egg yolks fold into egg whites until well incorporated.
Pour batter into prepared cake pan and bake for 30 - 35 minutes, or until an inserted toothpick comes out clean. Set to cool, once cool enough to touch turn cake out of pan and let cool completely on a wire rack.
Chocolate Whipped Cream Filling
Whip cream and cocoa powder to soft peaks. Mix in sugar. Set aside.
Chocolate Frosting
Cream butter for a few minutes on medium speed, or vigorously with a fork.
Sift 3 cups confectioners' sugar and 1/2 cup cocoa into the butter bowl.
Mix on low until creamy.
Add vanilla extract, salt, and milk/cream and beat for 3 minutes. If using an electric mixer, increase speed to medium.
Notes: To thicken the consistency, add a little more sugar.
To thin the consistency, ,add additional milk 1 tablespoon at a time.
Assembly
Cut cooled cake into 4 layers. Ice between layers of cake with chocolate whipped cream. Ice top layer of cake with chocolate frosting and garnish with slivered almonds.