Chocolate Layer Cake With White Chocolate Frosting Recipe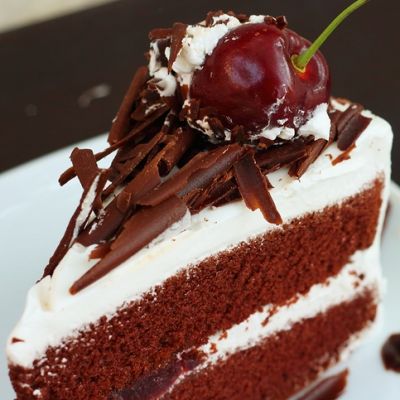 When is the last time you baked a cake for your family for dessert? Maybe it's time.
Ingredients
Chocolate Cake
2 cups granulated sugar
1 3/4 cups all purpose flour
3/4 cup cocoa powder
1 1/2 teaspoons baking powder
1 1/2 teaspoons baking soda
1 teaspoon salt
2 eggs
1 cup milk
1/2 cup vegetable oil
2 teaspoons pure vanilla extract
3/4 cup boiling water
White Chocolate Frosting
1 cup white chocolate chip
1 1/2 cups cream cheese, softened
1/3 cup butter, at room temperature
1 1/2 cups confectioners sugar
1 1/2 teaspoons vanilla extract
Chocolate Garnish
1 cup chocolate chips
Directions
Chocolate Cake:
Preheat oven to 350F.
Lightly grease with butter two 9-inch round cake pans. Set aside.
In a mixing bowl, stir together the sugar, flour, cocoa powder, baking powder, baking soda and salt.
In another mixing bowl use an electric mixer on medium to mix the eggs, milk, oil and vanilla until well incorporated.
Add the dry ingredients to the wet mixing in alternately with the boiling water and mix until it has incorporated.
Transfer to the prepared pans and place into the preheated oven.
Bake for 30 - 35 minutes, or until a toothpick inserted in the center comes out clean.
Remove and place on a cooling rack. Leave in the pans for five minutes, then turn the cakes out of pans and let cool completely on a wire rack.
Frosting:
Melt white chocolate in a double boiler, or in a pot filed with water and a bowl. Set to cool.
In a mixing bowl, beat the cream cheese and butter until smooth. Slowly add melted chocolate to cream cheese and beat in until well combined. Add confectioners' sugar and vanilla, and beat for about 10 minutes until well combined.
Assembly
Spread frosting in between layers, on top, and on sides.
Garnish with chocolate shavings and a cherry if you are using!
Chocolate Garnish
Melt chocolate chips into a ramekin and cool to solid, Once completely hardened take a vegetable peeler and peel the sides to get shavings. Peel onto a parchment lined plate so that once the shavings and curls are made they can be chilled and stored for safe keeping.