Chocolate Layered Blackberry Cake Recipe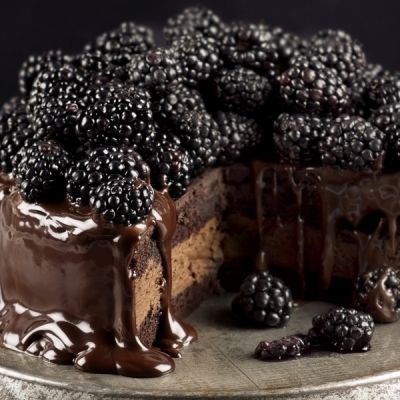 A very yummy recipe for chocolate layered blackberry cake.
Ingredients
Cake
1 cup granulated sugar
1 cups all purpose flour
1/4 cup cocoa powder
1 teaspoons baking powder
1 teaspoons baking soda
1/2 teaspoon salt
1 egg
1 cup milk
1/4 cup vegetable oil
1 teaspoons vanilla extract
Filling
1 cup butter, at room temperature
1/2 cup cocoa powder
5 cups confectioners sugar
1 teaspoon vanilla
3-4 tablespoons milk
Ganache
9 ounces bittersweet chocolate, chopped
1 cup heavy cream
1 Tablespoon rum
Topping
2 cups blackberries
Directions
Cake
Preheat oven to 350 degrees F.
Grease and an 8 inch round cake pan.
In a large bowl, stir together the sugar, flour, cocoa, baking powder, baking soda and salt.
Add the eggs, milk, oil and vanilla, mix for 2 minutes on medium speed on an electric mixer.
Pour into the prepared pan.
Bake 30 to 35 minutes or until the cake tests done with a toothpick.
Cool 10 minutes, then remove to a wire rack to cool completely.
Frosting
To make the frosting, whip butter and cocoa together until smooth.
Stir in vanilla and confectioners sugar.
Slowly stream in milk until frosting reaches desired consistency. Whip until fluffy and smooth.
Ganache
To make the ganache,place the chocolate into a medium bowl. Heat the cream in a small sauce pan over medium heat.
Bring just to a boil, pour over the chopped chocolate, and whisk until smooth. Stir in the rum if desired.
Allow the ganache to cool slightly before pouring over a cake.
Load the top up with lovely fresh blackberries at serving time.