Chocolate Long Johns Recipe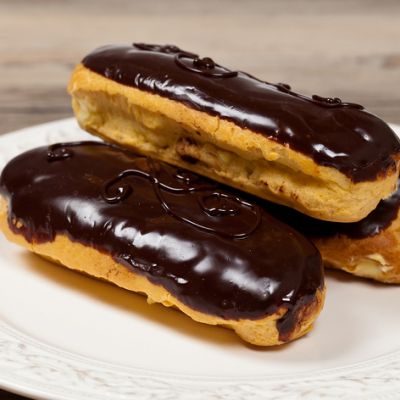 Chocolate long johns were my grandfather's favorite. It is fun to make them from scratch, but certainly takes some patience.
Ingredients
Donuts
2 envelopes active dry yeast
1/4 cup warm water
1 1/2 cups lukewarm milk
1/2 cup granulated sugar
1 teaspoon salt
2 eggs
1/3 cup butter
5 cups all-purpose flour
1 quart oil for frying (make sure it has a high smoke point)
Chocolate Glaze
1/4 cup dark chocolate chips
1 cup confectioners' sugar
1/8 teaspoon salt
2 Tablespoons milk
2 Tablespoons unsalted butter
Directions
DONUTS
Place active yeast to warm water, give a quick mix and set aside.
Mix together all ingredients together. Once a dough has formed, you will need to knead for about 5 - 10 minutes.
You should be able to pull at dough and it not tear right away. Cover this a cloth, and let sit for about 30 minutes to an hour.
Punch out the air and roll out to about a 1/4 inch.
Cut out shapes as close to each other as possible, you can re-roll out excess dough and cut out more, until all the dough is used.
Heat oil to about 375 degrees F.
Fry donuts, for about 2 minutes on each side or until golden brown. Set on paper towel, to soak up excess oil
Chocolate Glaze
Mix together chocolate chips, sugar and salt. Set aside. In a small pot bring milk and butter to a boil, remove from heat. Pour hot milk over chocolate chips and stir until smooth.
Dunk donuts into glaze and let drip off excess. Let chocolate set and serve.