Chocolate Lovers Crunchy Marble Brownie Recipe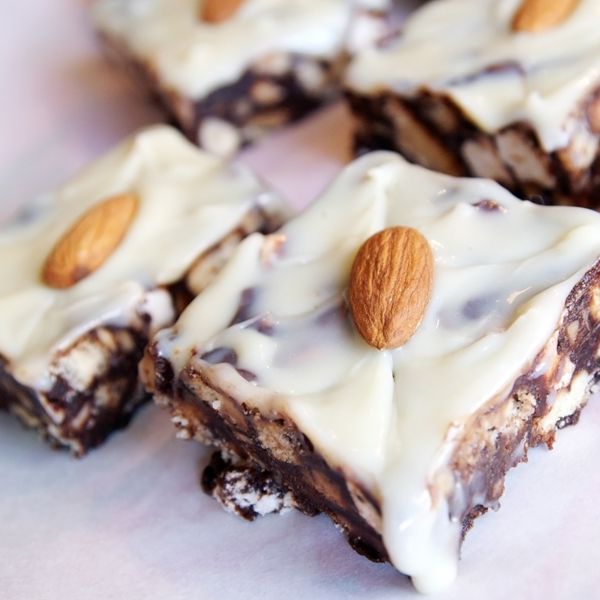 A unique brownie recipe with two kinds of chocolate and crunchy sweet almonds.
Ingredients
Melted butter, to grease
1 1/4 cup dark chocolate, finely chopped
1/2 cup butter, chopped
2/3 cup sugar
2 eggs, lightly whisked
1 cup plain flour
3/4 cup white chocolate, chopped
3/4 cup chopped almonds, chopped
12 whole almonds (optional for garnish)
White Chocolate Ganache Frosting
90mL cream
1 3/4 cups white chocolate, broken into small pieces
Directions
Prepare white chocolate ganache frosting:
Warm cream in a saucepan until almost boiling, then stir in chocolate pieces until melted.
Leave to cool, then refrigerate until ready to coat on brownies.
Preheat oven to 350F.
Brush a square cake pan with melted butter to lightly grease. Line base with parchment paper.
Place dark chocolate and chopped butter in a medium saucepan over low heat.
Cook, stirring, for 5 minutes or until chocolate melts and mixture combines.
Stir in sugar and cook, stirring, for 3 minutes or until well combined.
Remove from heat and set aside for 5 minutes to cool slightly.
Stir in eggs and flour.
Add white chocolate and almonds and stir until combined.
Spoon into prepared pan and smooth surface with the back of the spoon.
Bake in oven for 25 minute or until you can poke a fork in it and remove it clean.
Remove from oven and set aside for 3 hours to cool completely.
Top with white chocolate ganache frosting and cut into squares, garnishing each square with a whole almond if desired.